Hi babes! It's finally pumpkin spice latte season and we couldn't be more excited! Crunchy leaves, denim jackets, and warm lattes is the vibe we live for. And, let's be honest – fall is the best time of the year to style! It's all about the accessories and layers. 😍 Wedding jackets, especially, have been IN lately so here are 5 different ways to style our bridal denim jackets!
Trust us – you'll want to read till the end. *Wink wink*
Everyday Style
Let's start with a casual look. We know that a future Mrs. is always on the go! This style is for those days where you're busy running errands (sound too familiar?) but still want to show off your bridal status!
Bridal Brunch
This isn't the first time we've shared how much we love the idea of having a bridal brunch, but in case you missed it, make sure to check out our Backyard Bridal Shower Ideas where we give some amazing inspiration to plan a bridal shower brunch.
To complete the full vision, we created a look specifically for your bridal brunch. We all know that a little black dress is a staple in every girl's closet, but for a soon-to-be bride, a little white dress is ESSENTIAL.
City Night Look
Planning your wedding can be a lot of work, so we always support a little girls' night out to destress. If you live in an area where the Autumn breeze might not be in full effect (like us here in Cali!), we say take advantage and show some legs!
Bachelorette
As the wedding countdown begins, it's time to celebrate your last fling before the ring. Go all out, miss. It's your last few days before you become a Mrs!
Wedding
The previous 4 styles were completely white outfits, so for the wedding day, you know we had to do something different than a traditional white dress!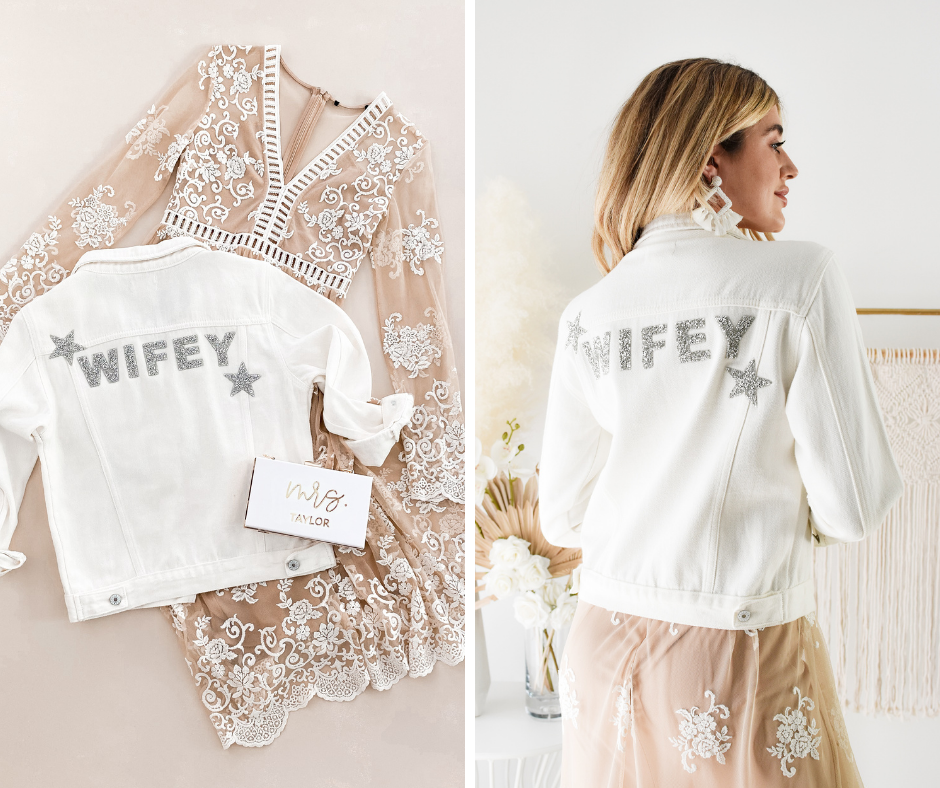 Whatever your style might be, we always love to see looks that are uniquely yours. Make sure to share how you would style this denim jacket by tagging #WedFavLook or @weddingfavorites. To see all of our looks in action, make sure to follow us on IG and watch our latest IGTV episode to see us style these 5 outfits!
We hope you enjoyed these outfit inspos! Here's an exclusive 20% OFF our White Denim Jackets! Use code DENIM20 valid through 10/23/20.
Happy fall, y'all!