As the holiday season wraps us in its festive embrace, what better way to spread joy than with heartfelt DIY gifts? This year, elevate your gifting game with our enchanting DIY Hot Cocoa Gift ideas. From regular cocoa mix to a custom cocoa lover delight, this creation is sure to warm hearts and create lasting memories. This Custom Hot Cocoa Gift Box is the perfect holiday gift idea for friends, family, coworkers, and more!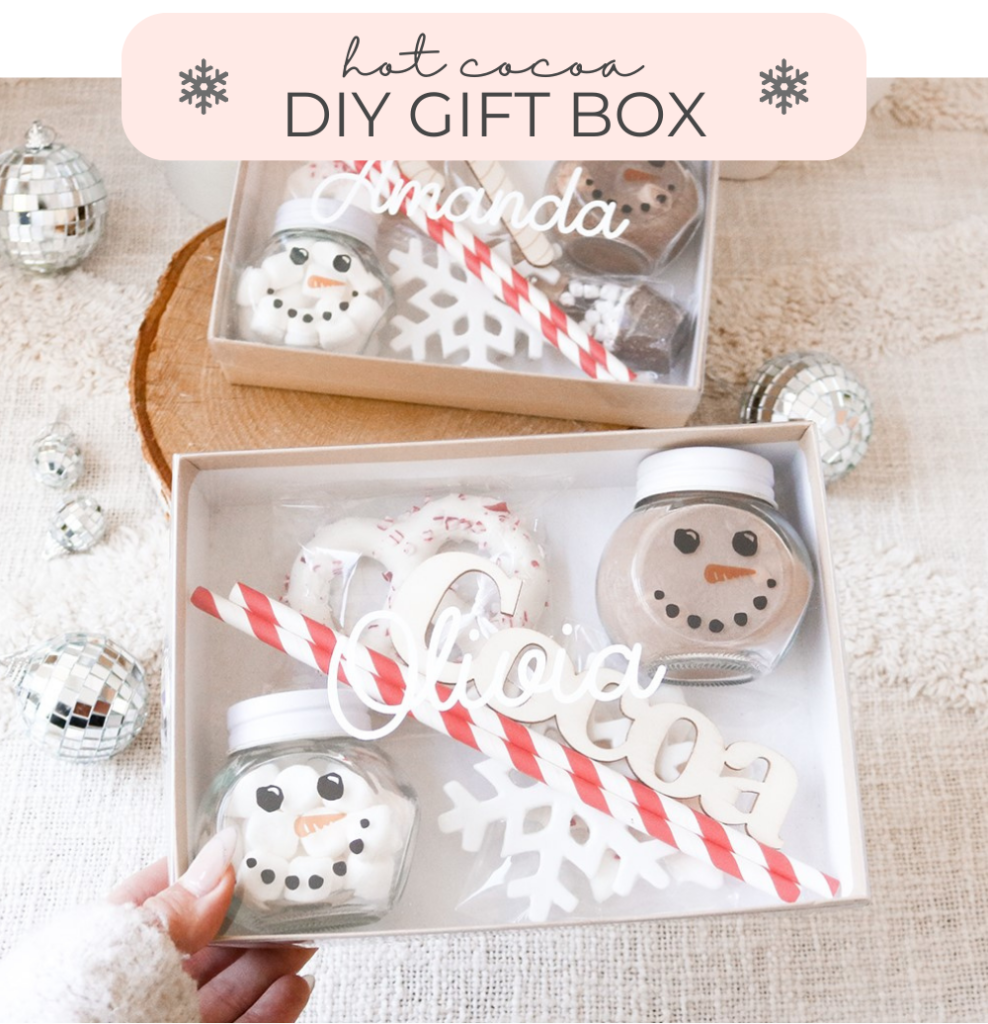 Imagine the delight of unwrapping a homemade hot cocoa experience. Created with love and creativity, this DIY Hot Cocoa Gift Box Kit is totally customizable and will warm the hearts of whoever you give it to! You can include items like a premium cocoa mix, fluffy marshmallows, and a sprinkle of holiday magic. Pair it with a custom mug or a festive ribbon for an extra-special touch. Let's get started!
Things you will need:
Hot Cocoa Mix
Mini Marshmallows
Sprinkles (optional)
Additional Sweets (optional)
Ribbon (optional)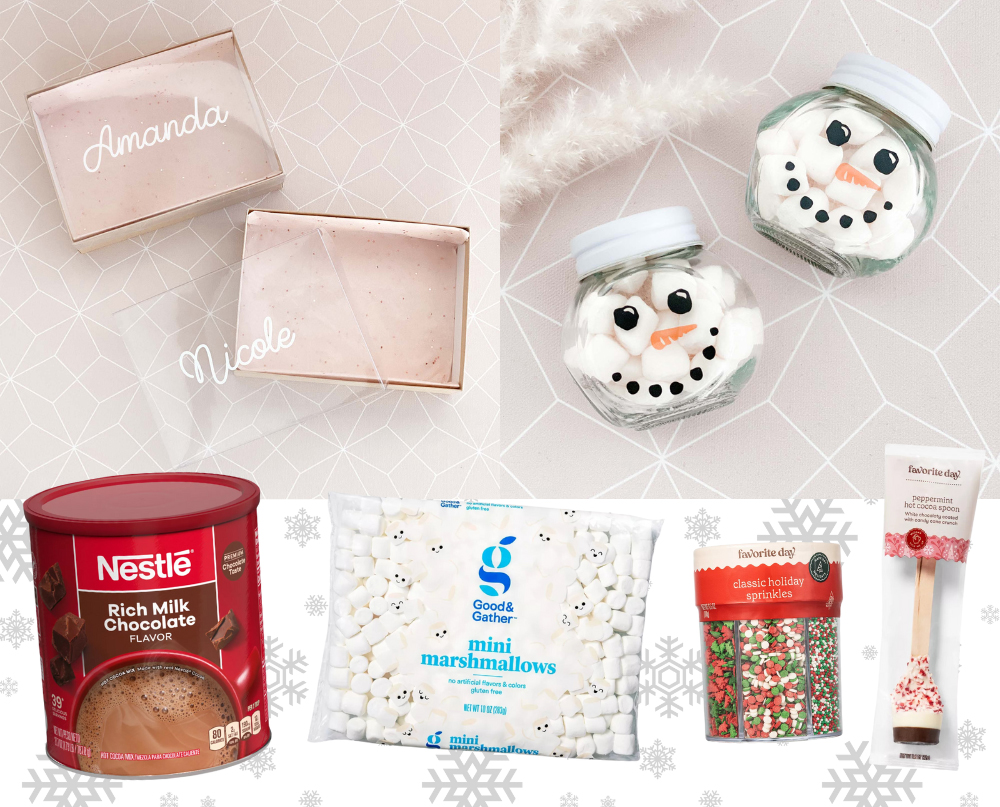 Putting It Together
To create this gift, you'll first need to get your Kraft Boxes customized on our site! We recommend putting the recipient's name on the clear lid, but you can also do fun words like "Merry", "Cocoa", or "Jolly". Make sure to also order the Snowman Jars and other fun holiday accessories like our Snowflake Ornament, Snowman Mug, Merry Mug, Holiday Apron, or more from our Holiday Collection! Grab your favorite hot chocolate mix and sweets from your local grocery store like Walmart or Target.
Once you receive your items you can begin by assembling your Snowman Jars. The glass favor jars will come separate from the snowman stickers. All you need to do is attach the self-stick snowman labels to the jar. Once done you can fill the Snowman Candy Jars with hot cocoa powder and mini marshmallows. (We recommend using a small funnel for the hot chocolate mix.) You can fill each with a mixture of the two or keep them in separate jars.
Finishing Touches
Now that you have your jars filled, you're ready to start assembling the boxes! Grab your kraft box and place your filled snowman jars inside. You can place as many jars as fits, or just put a few and fill the rest of the box with additional sweets and holiday treats. Our favorites are chocolate stirring spoons, assorted sprinkles, and holiday cookies. You can also fill it with other gifts that you think your recipient will love like gift cards, money, or other small gifts!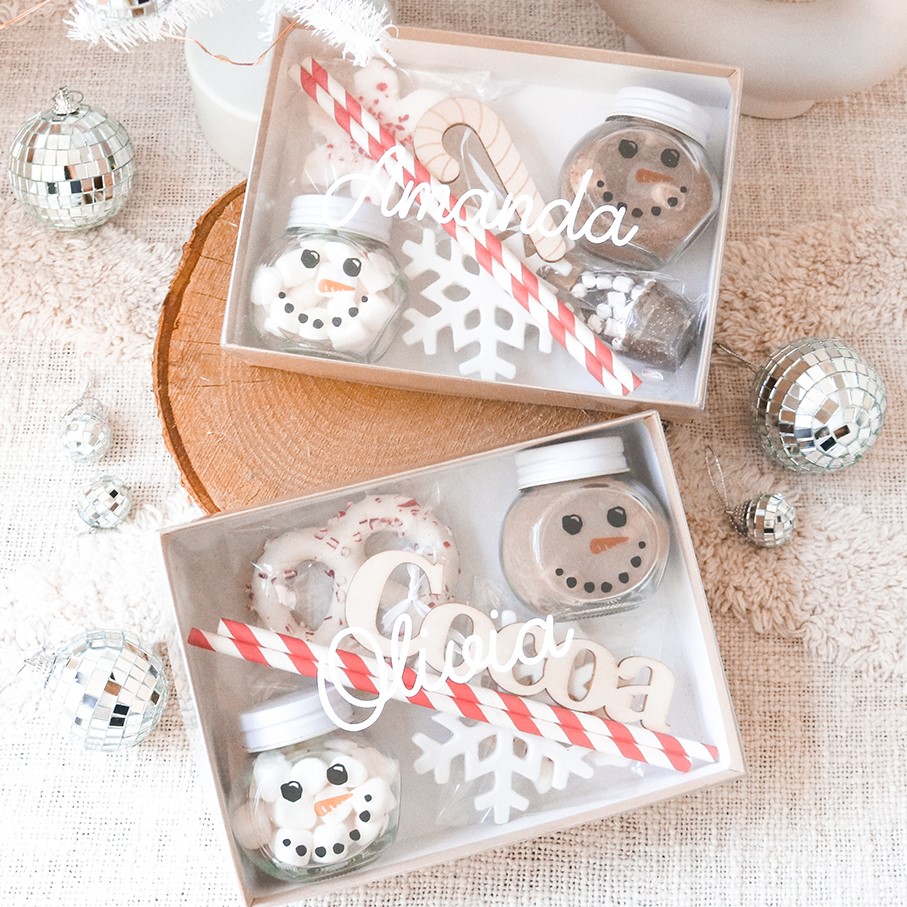 Ready for Gifting
When you're done filling the box, all that's left to do is gift it! You can add a custom tag, label, card, or ribbon to go with it. Pair it with one of our custom mugs for a complete hot chocolate kit! Our Snowman Mugs are a favorite for the little ones and our Glass Mug are perfect for a coffee lover. These personal touches show you care and will make the gift extra memorable. Now you're ready to sleigh the holiday season!
Happy Gifting!