Looking for matching outfits you & your babes can wear at the bach party? Come along with us to break down some of our Bachelorette Party Shirt styles! These shirts are a must-wear during bachelorette parties at any time of the year. Our shirts are made up of soft and stretchy material and can be ordered with an original personalization that will have your girls never taking them off. We love the versatility of these shirts: wear them dressed up, dressed down, tied up, cropped, or however your heart desires, giving you the freedom to wear your shirt how you like while still matching with your besties.
With so many options, it can be hard to choose the right one for your squad. Here's a breakdown of all our shirt options so you can choose the style that matches your theme:
Our Retro Bride & Babes shirts have a fun, colorful, bold text style that reflects a groovy 70s vibes. The base colors of the shirts come in black/white or tan/blush overlaid with trendy retro lettering. If your bachelorette has something to do with disco, groovy dancing, or throwbacks, these shirts are exactly what you need!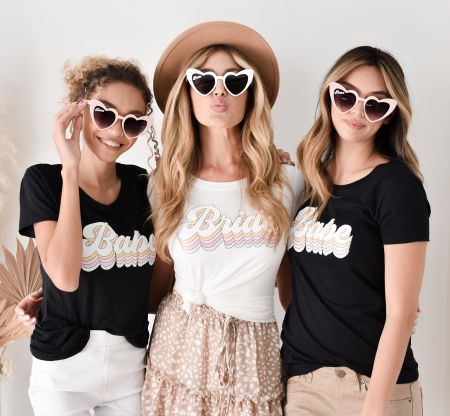 Cactus Fiesta shirts are a great addition if your party theme is New Mexico Deserts, Final Fiesta, or Disco Cowgirl. On our black base version, the minimal gold cactus in a pot design dramatically pops against its base color and looks beautiful in person and in photos. These shirts will blend seamlessly with a pair of denim jeans, cowgirl boots, and a cowboy hat. If your Bachelorette trip is in Scottsdale, the Cactus Fiesta shirt is super fitting! We also have a tighter, more fitted version in white, grey, & black.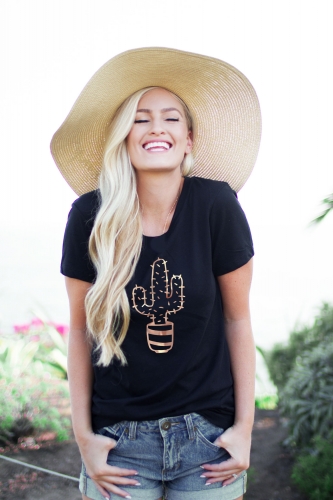 Our Custom Text T-Shirts allow you to choose from various text colors and styles. Bonus, you will get three lines of whatever personalization you want to add on the shirt! Whether you want to include the bride's last name, a funny phrase, or a saying that fits the party theme, you will definitely have the space to do so. Keep it simple or get creative – the choice is yours! We offer this custom style on both our fitted and semi-fitted shirts.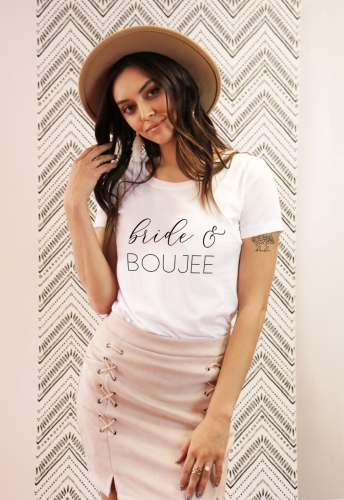 Our blush tops are the perfect mix between a dusty rose and a warm pastel pink color. With style options to choose from like "the maid of honor" or "mother of the groom", you'll be able to order one for every person in the bridal party! That way, everyone will be included while having a super cohesive look in the photos.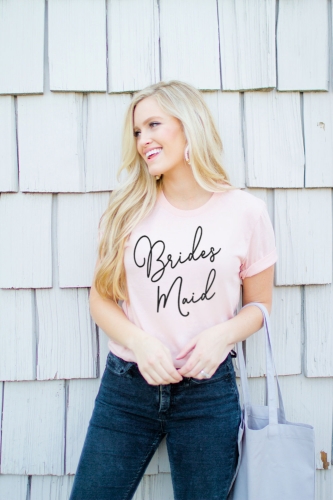 Our Let's Flamingle shirt is perfect for summery Flamingo Fridays or Florida-themed parties! These soft pink t-shirts are lightweight and comfortable with a white flamingo graphic on the front. Enjoy your final flamingle with your matching bridesmaids wearing these adorable, bright tops. Plus, the neutral text ensures these can be worn post-celebration. Too cute!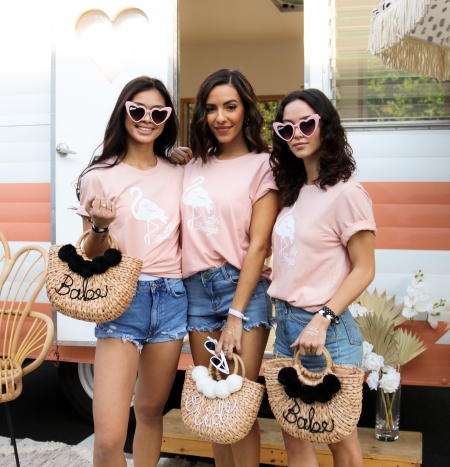 Still searching for a different, yet classy look? No problem! Pick either a natural or blush shirt to highlight the bride, bride's babes, and babe of honor written in an elegant cursive and serif font. The light colors make it easy to pair with light, dark, or patterned bottoms. These shirts are perfect for keeping track of the girls on your night out or while running errands during your weekend getaway. Choose between our fitted or semi-fitted shirts to get the perfect fit for you.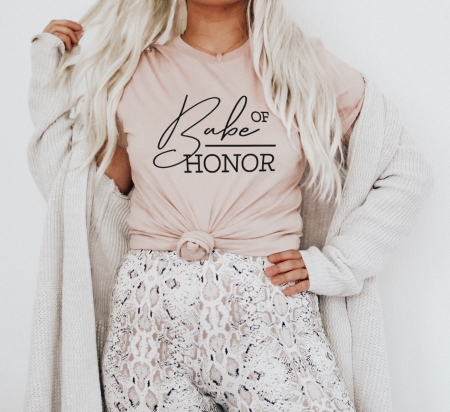 We've taken our classic "Bride" and "Babe" tops and designed an alternate color and text variation. Now, paired with a beautiful script font and more shirt colors, like natural w/ black text or blush, tan, and clay w/ white text, to choose from you'll have full control over the type of look you want. These matching tops + a fun backdrop = the sweetest photos.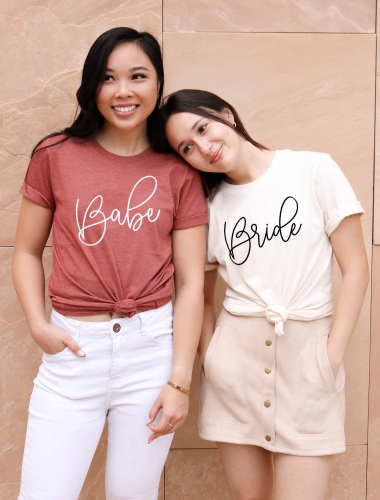 Our Vintage Bridal Babe Shirts offer a unique font and crew neck jersey style that reminds us of Barbie and Grease! Even the little hearts adorning the letter "i" offers the perfect touch. If you've planned to throw a Barbie Bachelorette Themed Party or one inspired by the revered cult-classic Grease, you'll definitely need these high-quality shirts. You get this vintage design on our fitted, semi-fitted, or relaxed-fit shirts.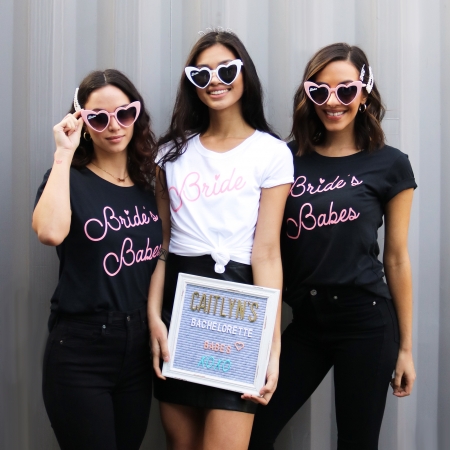 Any one of these styles can match your dream look! Between the colors, font styles, designs, customizations, and fit, many of our shirts can be re-imagined to fit the style of your party. If you decide to wear any of these throughout the bachelorette party & wedding journey, make sure to tag us @weddingfavorites.