If you are planning your bachelorette party and don't know what to wear, we are here to get you started! Bachelorette party tanks are a MUST to achieve a put-together and fun look amongst all of your babes–especially for the summertime! They are the perfect way to include your girls in the party/theme, show your appreciation for the group, and capture special photos you can always look back on. Our Tank Tops are just what you need as they are versatile and customizable without being too flashy. Take a look: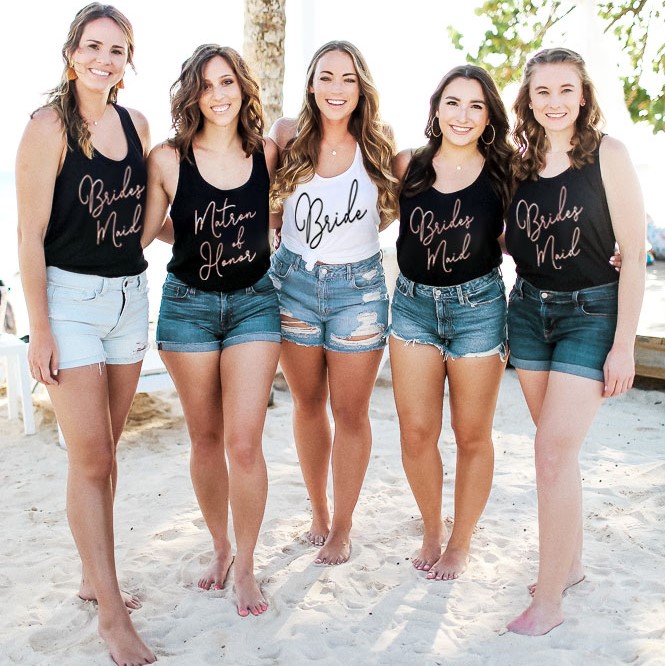 Are you having a tropical, summery, or beachy bachelorette party? Our Tropical Tanks range from Flamingo, Anchor, Pineapple, and Palm Leaf designs. These are great options for themes like "Final Flamingle" or "You Had Me at Aloha." Choose to add custom texts in various foil colors on either a white, grey, or black tank!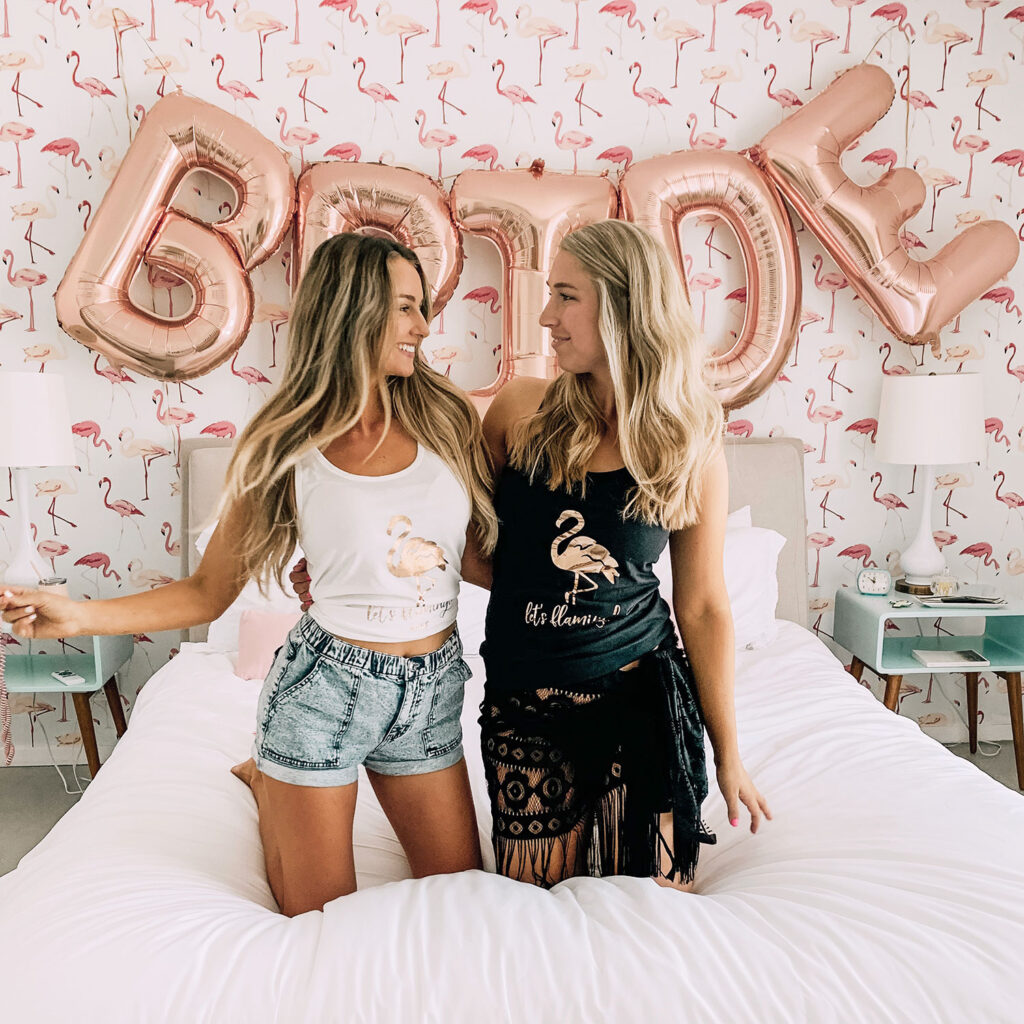 Throwing your bachelorette party in Scottsdale or Palm Springs? Our Desert Cactus Shirts will blend in beautifully with the scenery while staying on theme! With such a neutral and aesthetic design, you can't go wrong with these matching Desert Bride & Desert Tribe Tank Tops.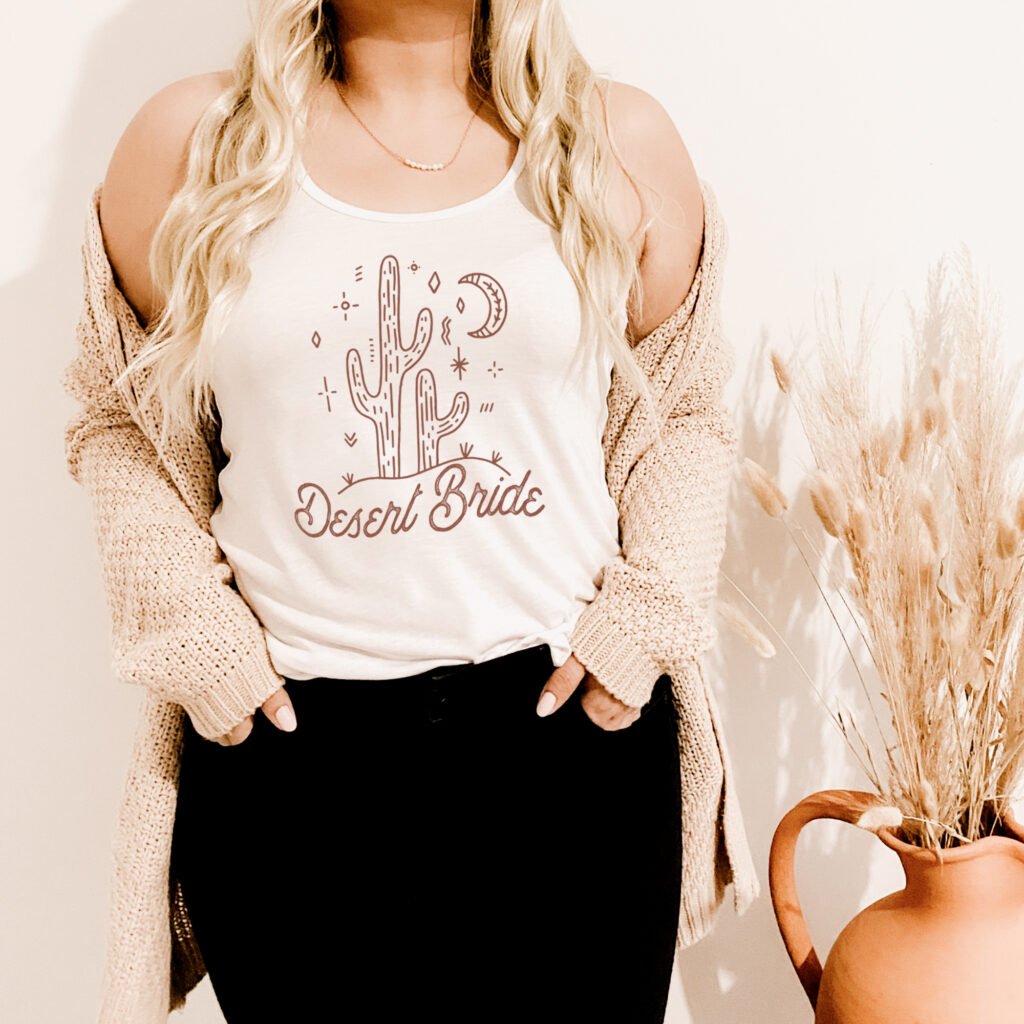 Matching, minimal, and pink…what more could you want?! Our pink and white Bride and Babe Tanks are a staple for any boho or pastel-colored party. This popular color along with the cute lettering makes it picture-perfect. Choose from "bride," "babe," or "wifey," styles so everyone can show off their titles.
Match with almost any party theme by customizing your own Tank! With 3 lines of personalization, different colors, and several font styles, you can mix and match to your liking. Have the bridesmaids match in one color while the bride wears white. Now your whole party can be super on-theme for the event. So unique!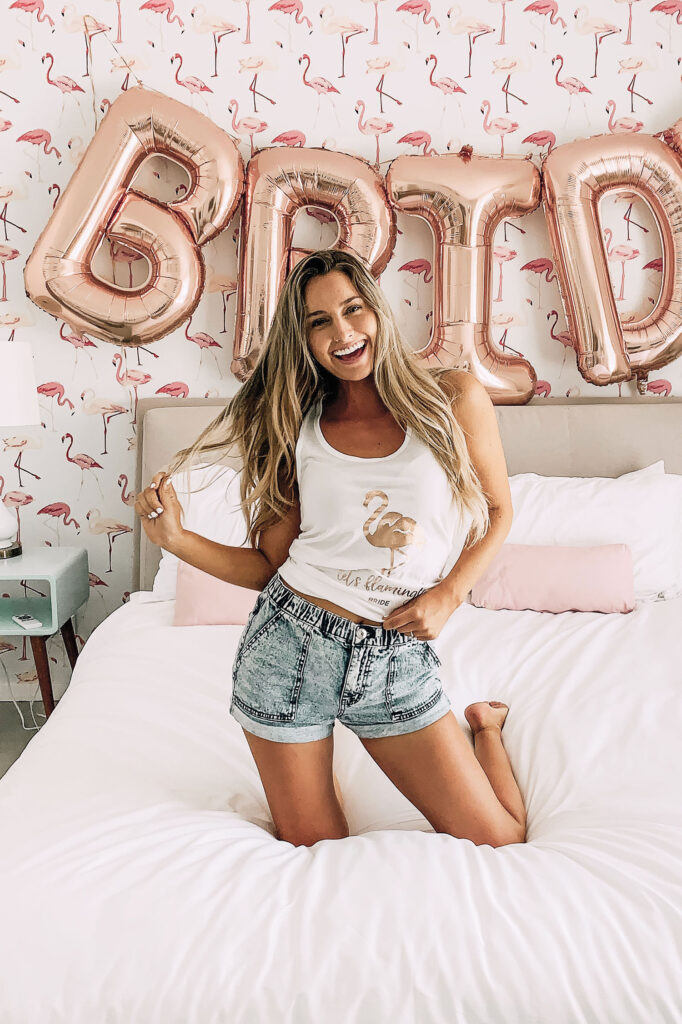 If you are going for a desert cactus or fun fiesta party theme, you have to try these out! Choose between the classic cactus or sombrero hat design to spruce up your average tank top. Plus, you can add personalized text to these! You and your girls will surely bring the party when wearing these adorable tops. They are perfect for the bride's "Final Fiesta".
Black & white is the way to go to achieve a classic look amongst your girl group. Each soft cotton tank is personalized with a bridal party title, whether you are the maid of honor or the mother of the groom! Gift these tank tops to the whole party so they can wear them throughout your bridal journey. They're perfect for the bachelorette party or getting ready for the wedding.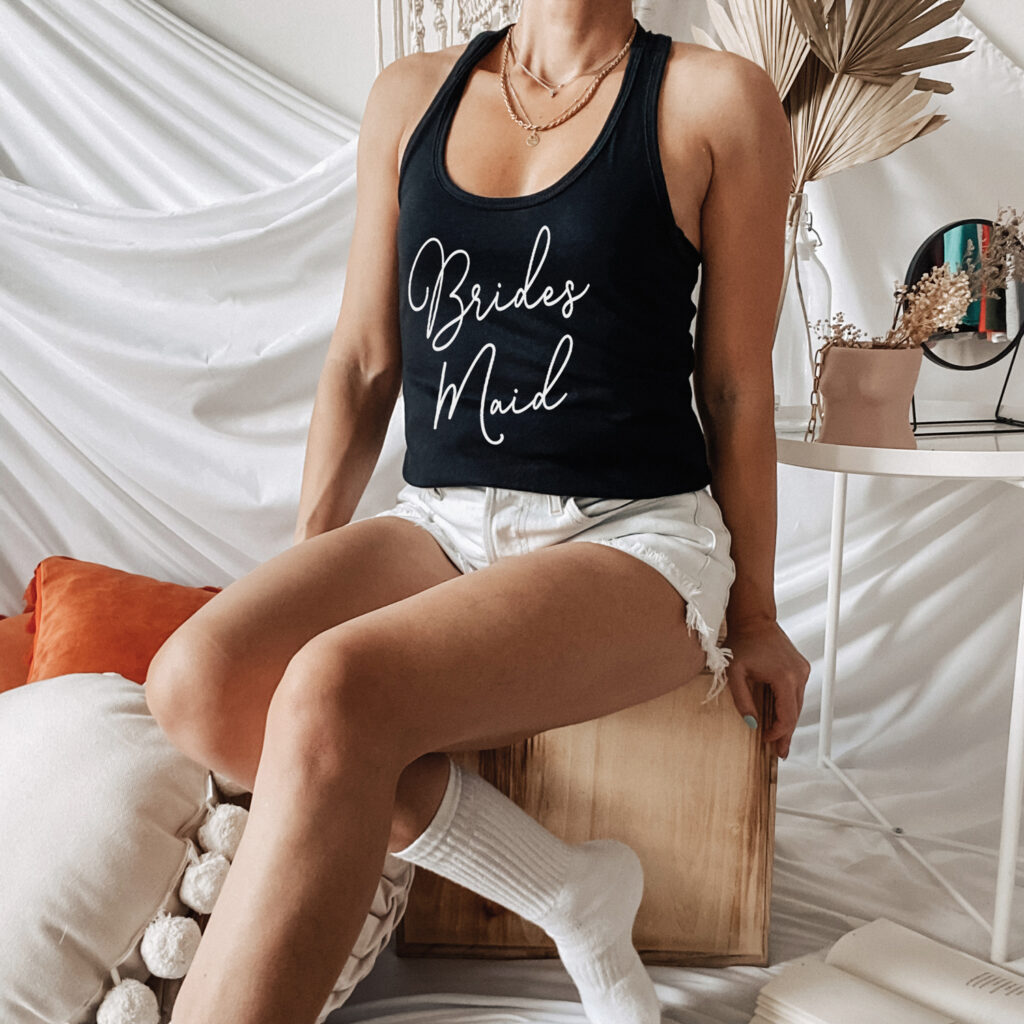 Our super cute and trendy bride and babe logos are colorful, bright, and scream retro! These are perfect for themes surrounding disco, the 70s/80s, karaoke, etc. Get ready for your tanks to pop and make a statement in all of the group photos.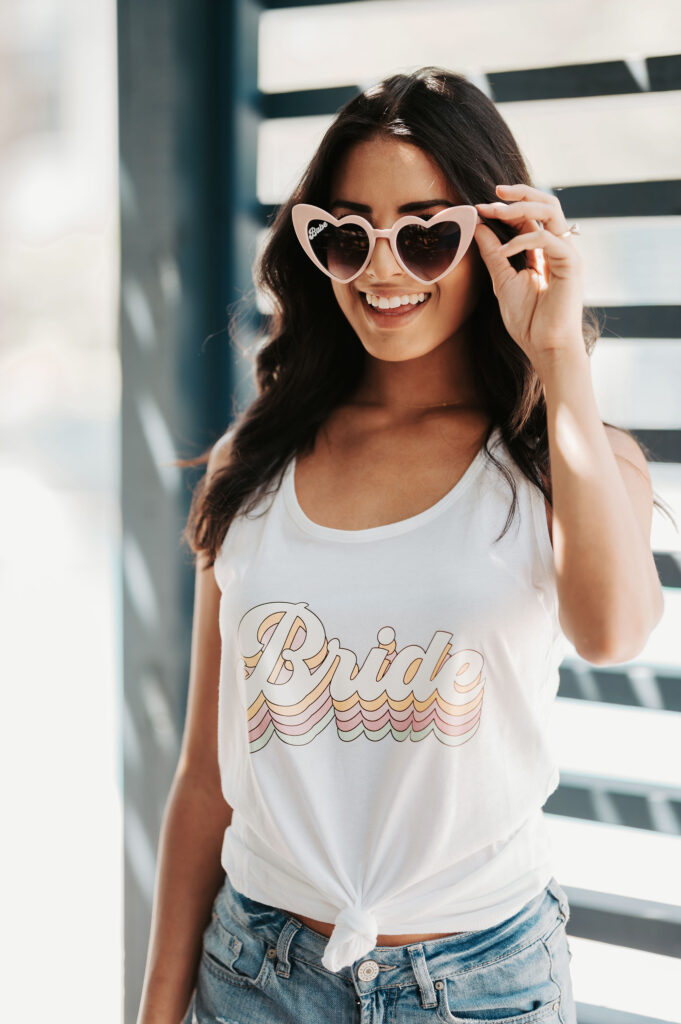 These Tanks are similar to our classic ones, but the font style gives them a unique touch. The "bride" and "brides babes" include a small heart design which makes them THAT much cuter. Play around with the colors to make it one of a kind for your bachelorette party.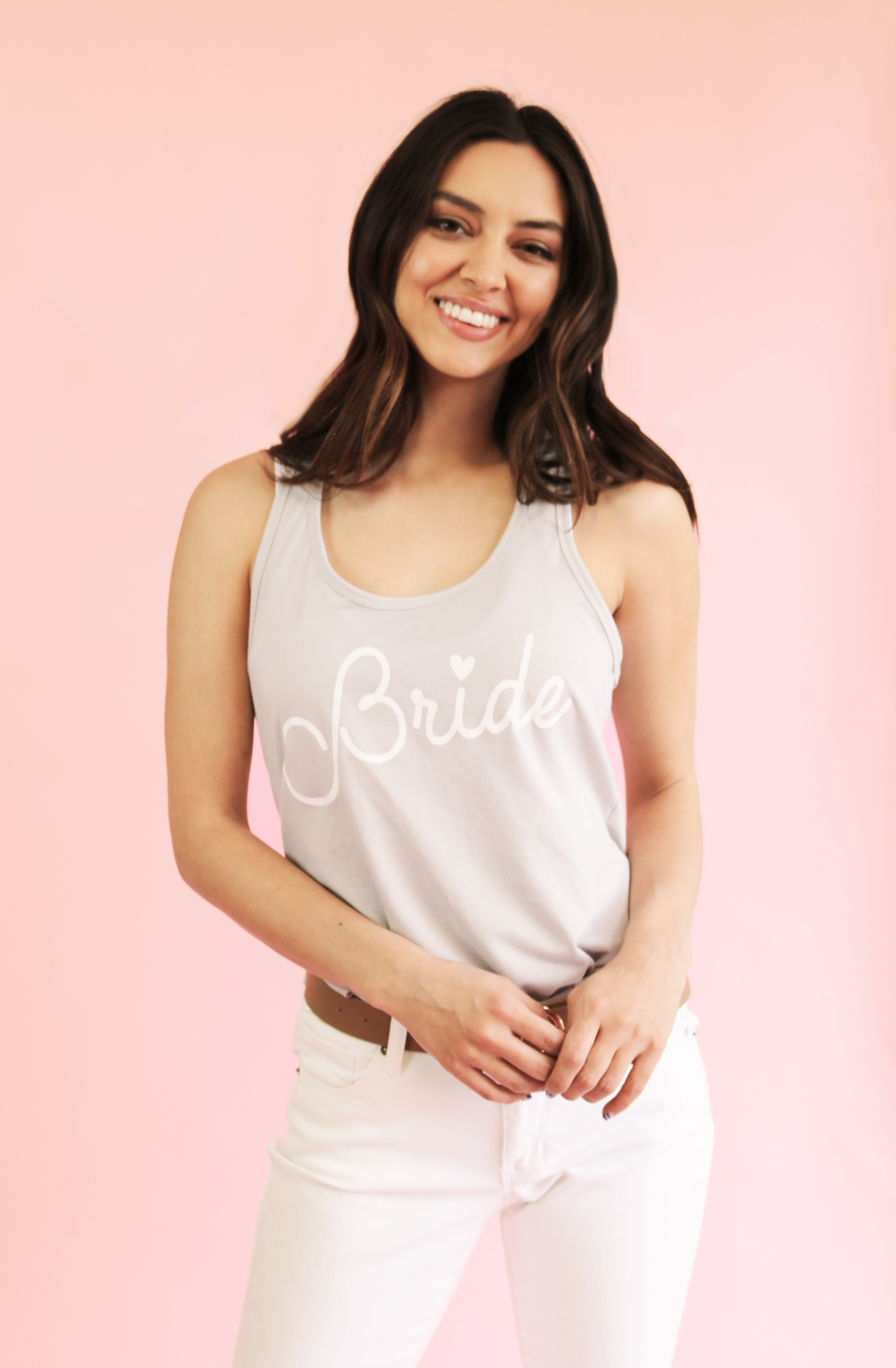 Wear our fun Sunburst Tanks while soaking up the sun on your bach trip! The pretty gold color, metallic rays, and bridal party titles make this a super unique option. We highly recommend wearing them for a summer party or trip with all of the girls.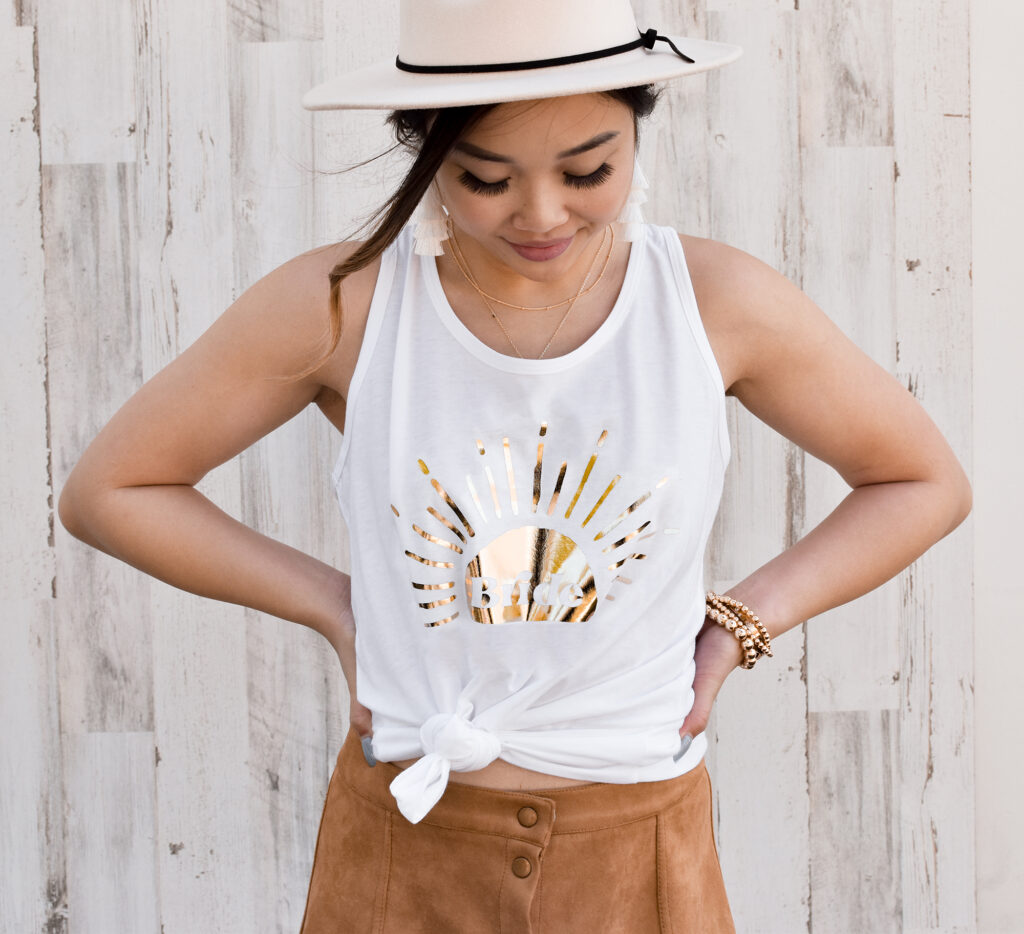 We have so many Tanks waiting for you to try! There is one for all different types of tastes, aesthetics, & party themes. Whether you want a more boho-chic look or retro vibe, it will not be difficult to find one for you and your girls. What are you waiting for?! Let the shopping begin!
We would love to see you and your bridal party rocking our Tanks, so make sure to tag us @weddingfavorites when you post your photos!