Are you looking for a quick way to spice up your wedding accessories? Whether it is for your bridal shower or bachelorette party, we have some ideas you'll love! The best part is you only need ONE thing– pearl stickers! These add so much charm and shine to any outfit, hence why they are super popular (especially for brides) right now!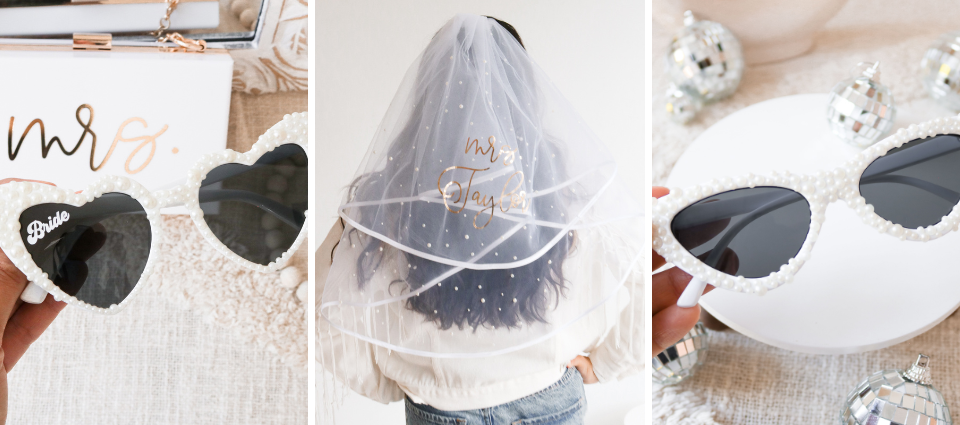 We found our adhesive pearls on Amazon, but similar products should be available at your local arts and crafts store! Stay on trend by adding pearl stickers to your favorite accessories & items:
Grab a pair of our Bride Sunglasses and have your pearl stickers ready. All that's left to do is peel and stick! Place the pearls all over the sunglasses' frame or in select areas. The pearls will radiate a shimmery glow in all of the photos you take throughout the engagement shoot, bachelorette party, photo booth, and other celebrations. The bride will always be able to stand out while wearing these.
Want a similar look using our Plain Cat Eye Sunglasses instead? Follow the same steps as listed above and you'll have elevated Sunnies in no time. Since there is no "bride" label on these, you can wear them after the wedding as well! They are the perfect accessory for any bridal outfit!
Last year TikTok went CRAZY for the viral pearl veil that our WedFav bride @its.kasie wore on her wedding day. We put our own twist on the trend and added pearls to our Personalized Mrs. Veil. You can add as many of the pearl stickers to the veil as you'd like. Depending on the adhesive of the stickers it might also help to add a dab of glue to secure them on more. This is the perfect accessory to wear at your bridal shower, bachelorette party, or rehearsal dinner. The subtle elegance of the pearls will give your veil the extra flair you are looking for.
Just like that, you will have newly adorned, unique items at your fingertips. These DIY pearl accessories are so versatile as you can do this with most items in the comfort of your home. Incorporate pearls in other bridal items like your wedding favors or bridesmaid gifts! This is a great idea for DIY brides who do not have a lot of time to spare as it only takes minutes. Feel free to try any of these ideas out for your upcoming party!
Don't forget to tag us @weddingfavorites in pictures of the pearl creations you make♡