If you're on the search for a fun bachelorette theme, you've probably seen the Disco Cowgirl trend. This bachelorette party theme has been super popular throughout the past couple of years and for good reason! It blends retro/disco and cowgirl/western decor together, making it unique and fun for all brides and bridesmaids. There are so many ways to personalize and incorporate the theme through gifts, favors, and decor making it a truly one-of-a-kind bachelorette party!
We've put together a fun and easy DIY to spice up your bachelorette gift bags for your bride squad! Our Desert Cactus Burlap Totes are perfect for a western bach, so to tie in the retro disco vibes, we made some cute DIY charms.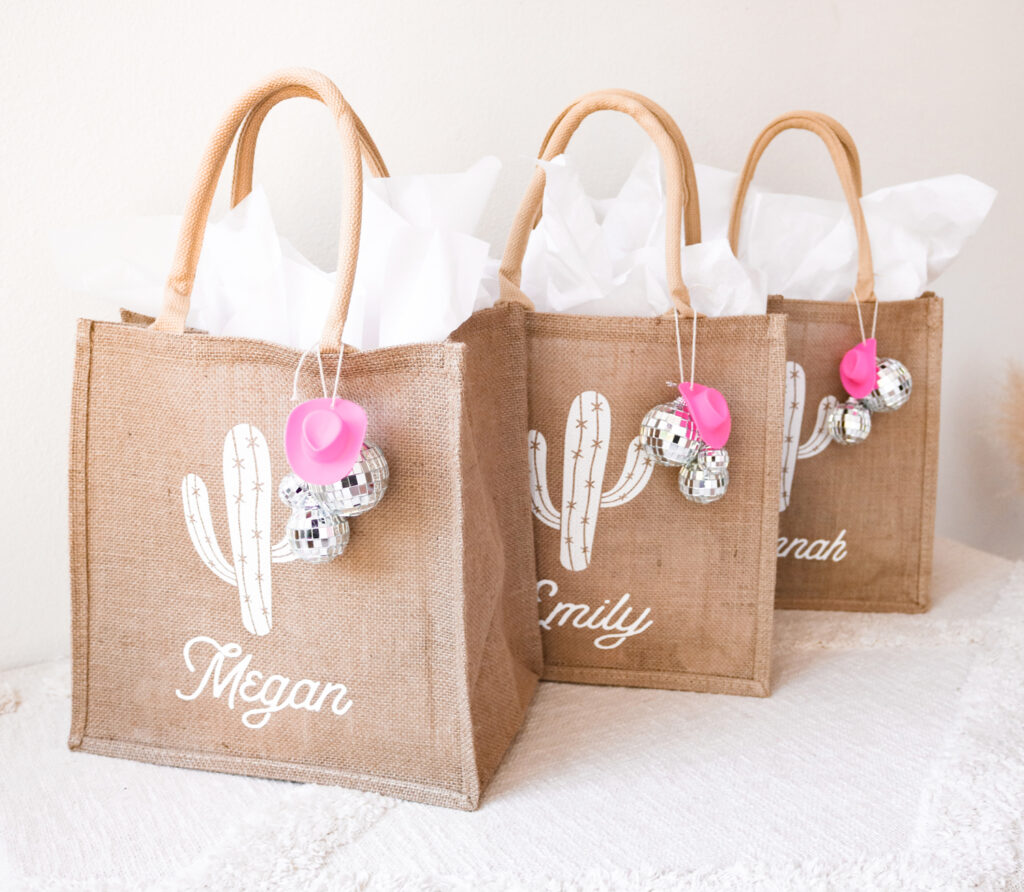 Here's What You Need:
Any small sharp tool
Making The Disco Cowgirl Charms
Start by puncturing a small hole near the brim of the cowgirl hat. Next, pull some of the twine through the hole you made in the hat and add a few disco ball ornaments. Once those items are looped through the string, grab your tote bag & tie a knot with the twine, securing your new charm onto one of the handles. Repeat for all of your tote bag gifts. Don't forget to fill them with items your girls will love, like our Desert Cactus Tumblers and Makeup Bags, and you are done!
We hope you are just obsessed with how cute these turned out as much as we are! Between the vibrant hot pink mini hat and the shiny disco ball, it really makes these gift bags come to life. This charm encapsulates both the disco and cowgirl aspects of the party theme perfectly. Plus, this DIY only requires a few items and a few minutes, making it super convenient for you to do whenever you have time. We can't wait to see your recreations, so make sure to tag us @weddingfavorites when you post your photos!