If your besties live far away–like across the country far away, it can be tough to figure out how to ask them to be your bridesmaid. Long-distance proposals can be a challenge, but there's no need to stress over putting together a complicated gift when our Gift Sets do the trick in minutes. Depending on your overall wedding aesthetic or bridal theme, our versatile Gift Sets will fit right in. All you have to do is pick out your favorite set and send it directly to your girls!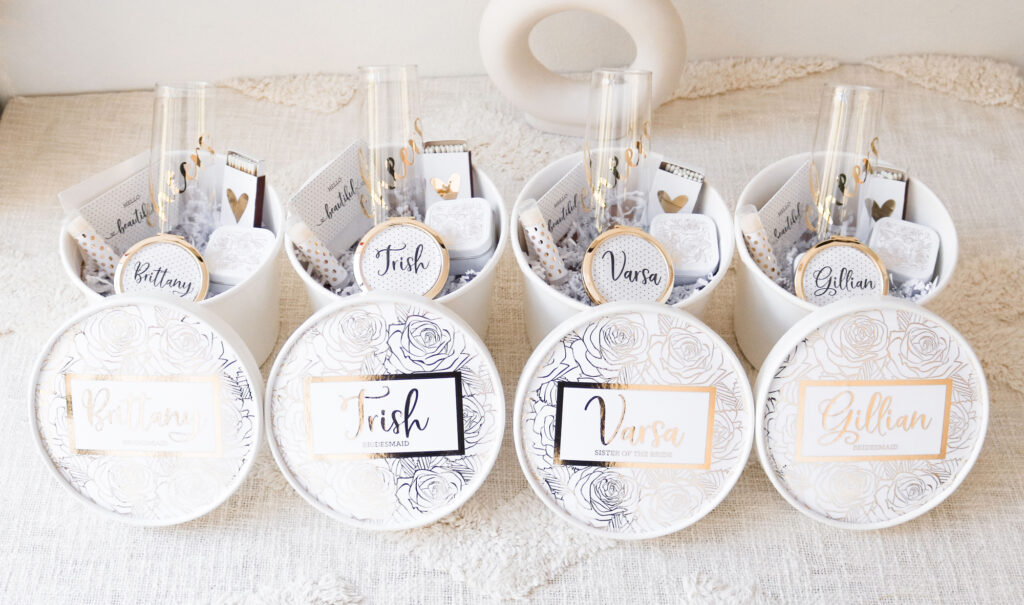 Each Box comes with a personalized card or message asking the question: Will you be my bridesmaid? That way, your girls will instantly know the purpose of the gift without you having to say or send anything extra. This is such a fun and unique way to make your closest friends feel like they are right there with you even when they are miles away. FUN IDEA: To experience the "in-person" reaction, coordinate a day + time you all can FaceTime and open the gifts together in real-time.
Here are some of our Proposal Sets that will have your future bridesmaids saying "I Do":
Keep your girls calm & relaxed with this spa-themed gift set. Some items included are our Glitter Bath Bomb and Candle Tin, both great for a slow evening. Each round box lid is personalized with a name on it for each individual girl.
This next box screams pretty & practical! Choose from several patterns that match your wedding theme or your girl's preferences like roses, stripes, or polka-dots. Customize the colors as well for a cohesive look overall.
Show the love and appreciation you have for your best friends with this sweet Heart Box. The geometric design and vibrant colors really catch the eye and help make this set stand out. Of course, most items included have a heart shape on them too, like our Match Sticks and Card. What's not to LOVE?!
Going for a tropical or beachy vibe? If so, this is the box your girls need. With the Sunglasses & Compact Mirror along with multiple other items, your babes will be all set for summer & the bachelorette party.
Our cactus box is adorable–especially if that is your bridal shower or bachelorette party theme. All of the neutral-toned items blend seamlessly together, crafting such an aesthetically pleasing gift.
Proposing to your girls is a special memory you will cherish forever, whether they are right next to you or miles away. If you have long-distance friends that you hope to be a part of your wedding journey, our Gift Sets are the perfect + most convenient way of asking. Just shop and ship! If you decide to send out any of these Sets or have any gift/reaction photos, make sure to tag us @weddingfavorites.