Not sure how to celebrate your bachelorette this year? Well, we've got the perfect idea! Have a splash with the girls at your very own pool party bach! Don't worry, it's easier to plan than you think & we're here to help you the whole way. All you need is some creativity to make your intimate weekend unforgettable.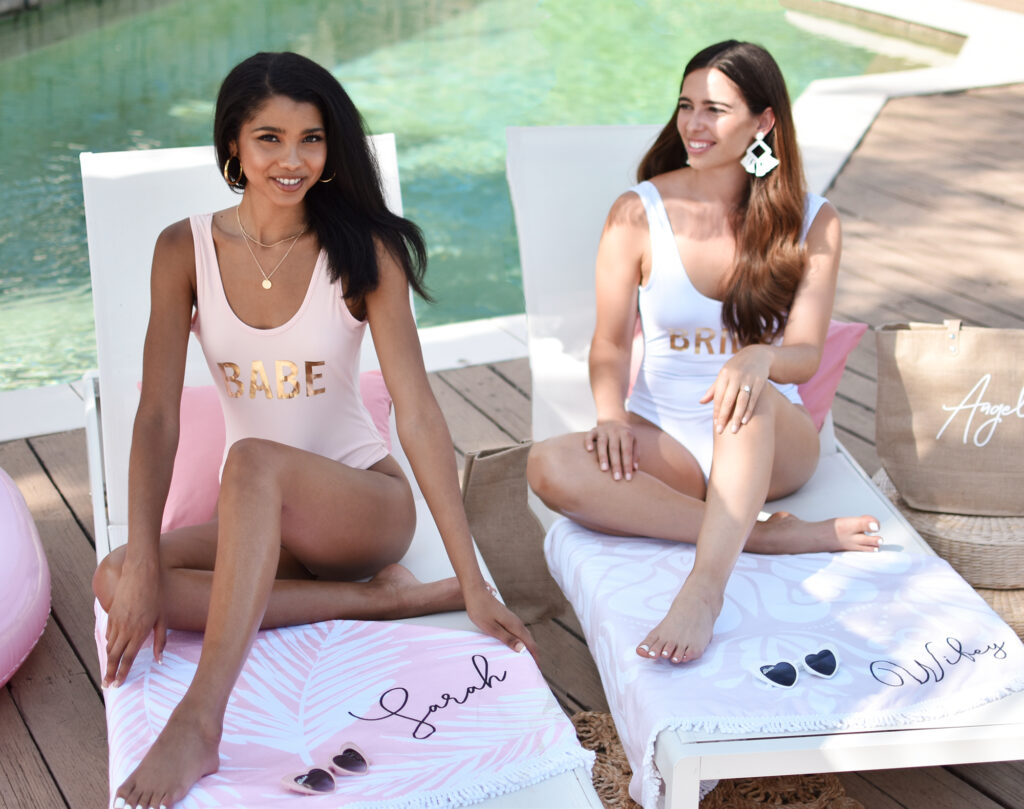 Pool Party Location
Turn the party into a weekend getaway by renting a house in the city! You can book an amazing house with a pool on sites like Airbnb or Vrbo. If someone in your bridal party already has a pool, that's even better! You can save money by asking to host there!
Another tip is to check ahead and look for a great restaurant around the area. Most local businesses are now offering delivery or take out so you can place catering orders ahead of time! Make sure to mention that you're having a special celebration. They might offer to do something extra special with your order. By finalizing the food beforehand, it ensures that your entire weekend is stress-free and that each meal is delicious.
Bonus: You can support a local business!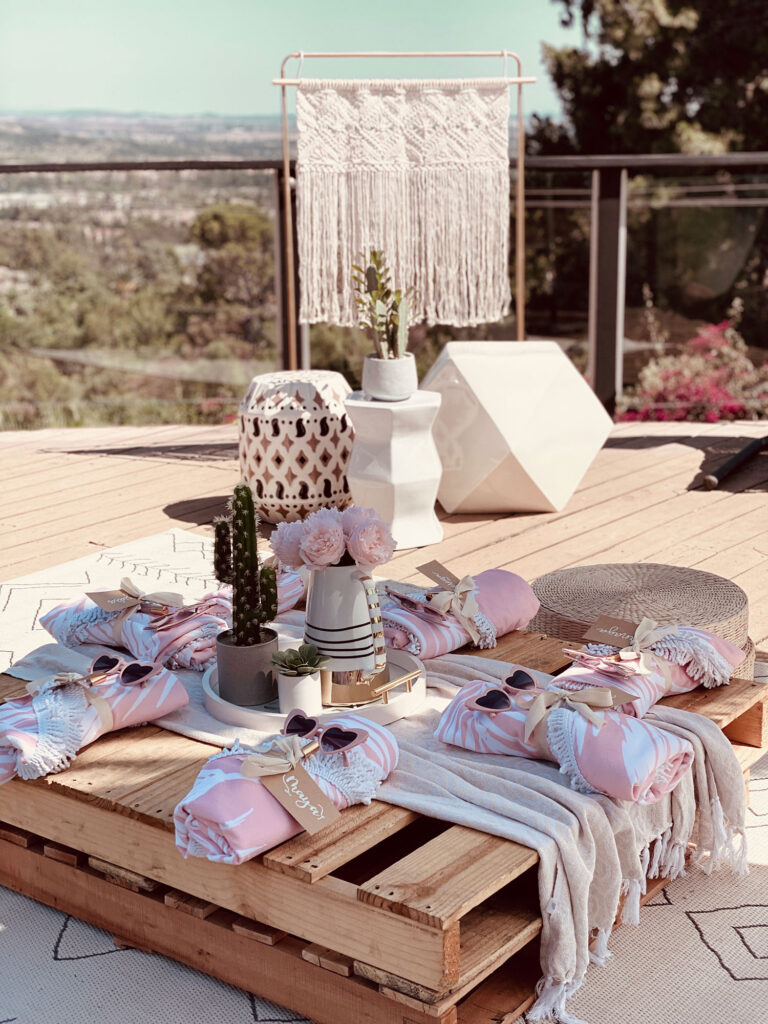 Bachelorette Pool Party Theme
The fun is in the details! From the invitations to the signature drinks, you can transform the weekend by choosing a theme – like a tropical/beach-themed party. Once you decide on a theme, make sure to stick to it! Your party will look better with consistency.
You can find cute and affordable templates or decorations on sites like Etsy and Amazon. Explore! We chose to plan out the entire weekend with these Tropical Itineraries from A Wild Bloom Printables. They're such a cute touch to help you plan the best weekend ever!
The pool is the main attraction, so don't forget to bring our adorable Heart Pool Floaties! Personalize each one with your girls' names for some unforgettable pictures. Chilling in the pool never looked so cute.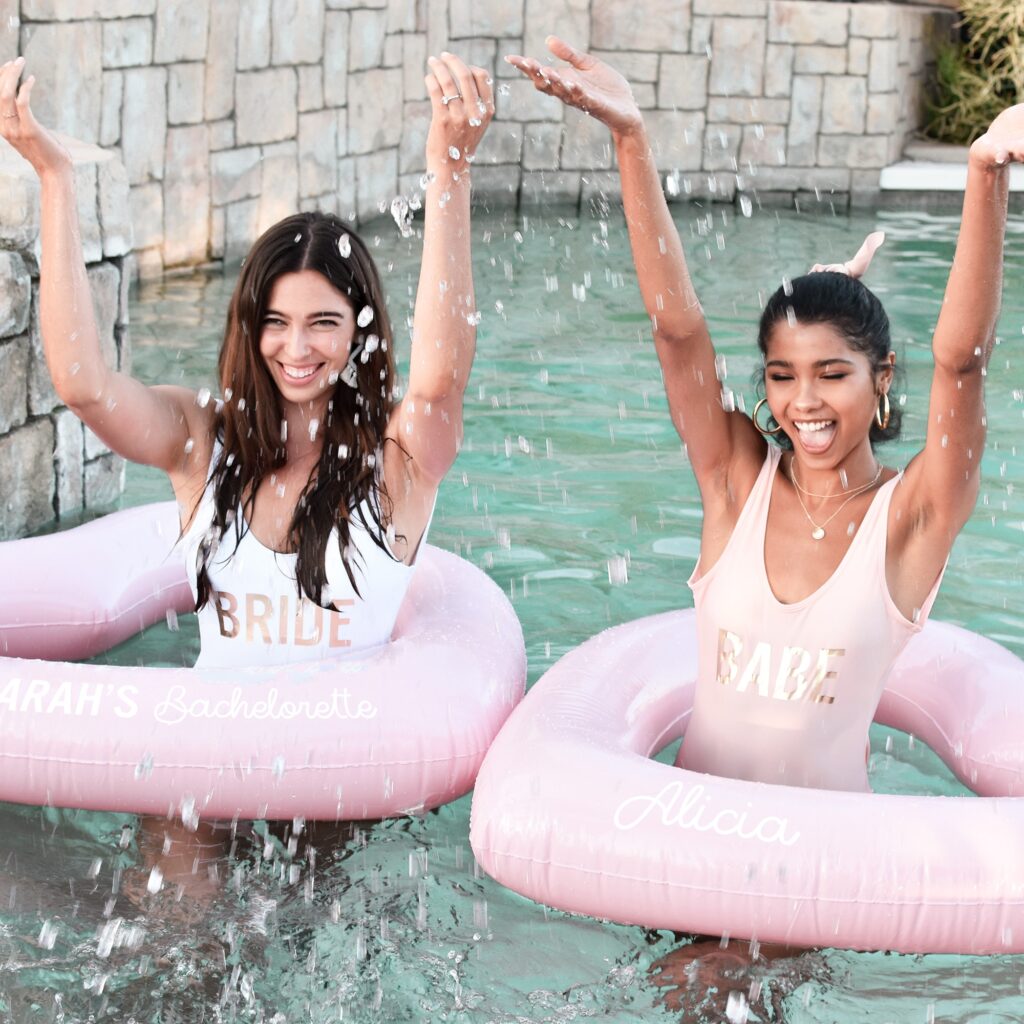 Oh, and matching swimsuits are a MUST. Remember what we said about consistency? The same applies to your weekend swimmies! They're completely customizable + perfect for some Insta-worthy pics with your girls.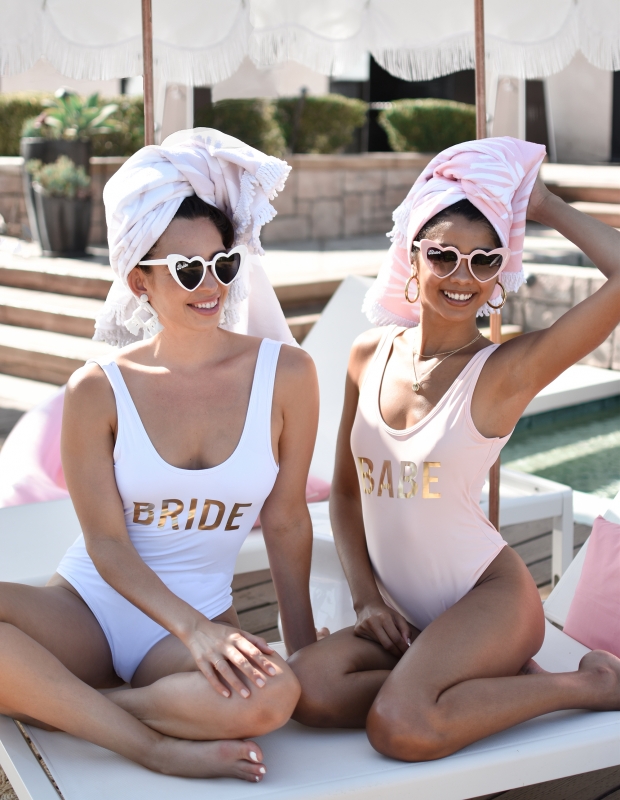 Don't forget to have towels ready to dry off after your fun time in the pool. Package them along with some favors, like our heart sunglasses and hand sanitizers. There's always a cute way to display your goodies for a memorable touch.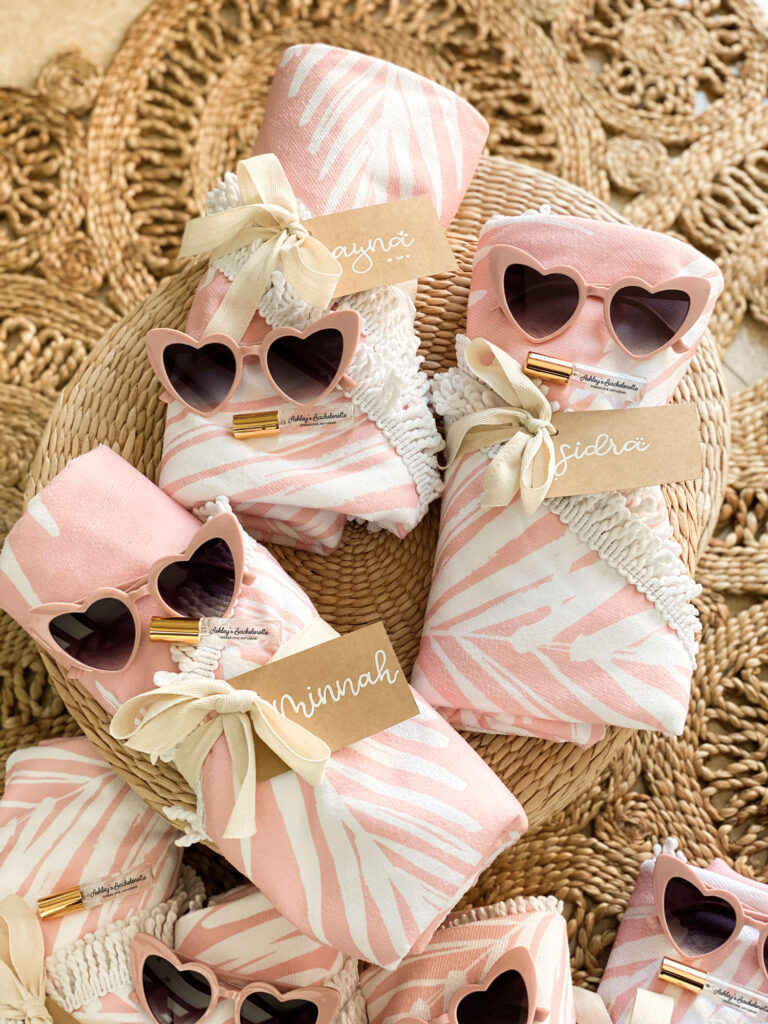 Bachelorette Games
Keep the party floating by playing wild bachelorette games with the group! You can find some hilarious game ideas on Etsy and Pinterest. We picked a variety of Bachelorette Party Game Printables from A Wild Bloom Printables. You can print them out ahead of time & save yourself the trouble of scrambling on the day of. Just don't forget to pack them!
And remember, it's always a good idea to ask for help. If this is something your Maid of Honor can take charge of, have her be responsible for the games.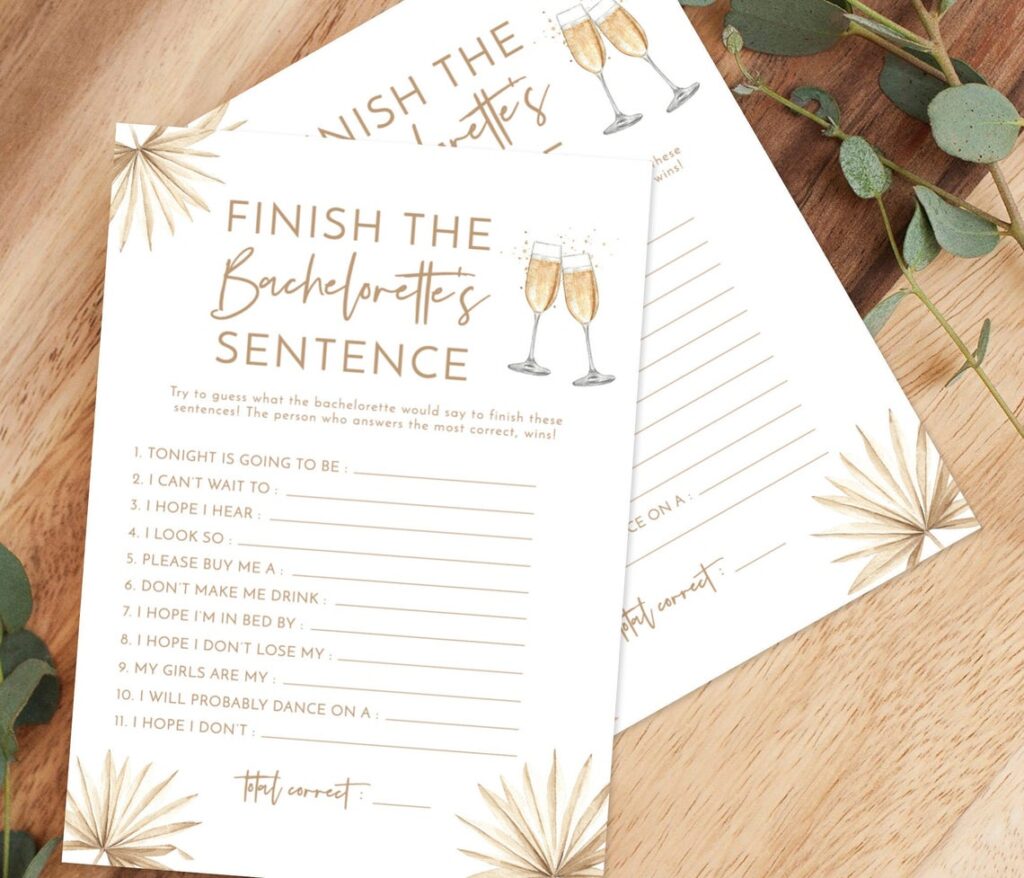 Bachelorette Party Gifts
Surprise the group with memorable presents to enjoy throughout the weekend! Swim away from the basic bachelorette presents and dive for some of our hottest summer gifts. You can personalize our Fanny packs and Visors for each of the girls.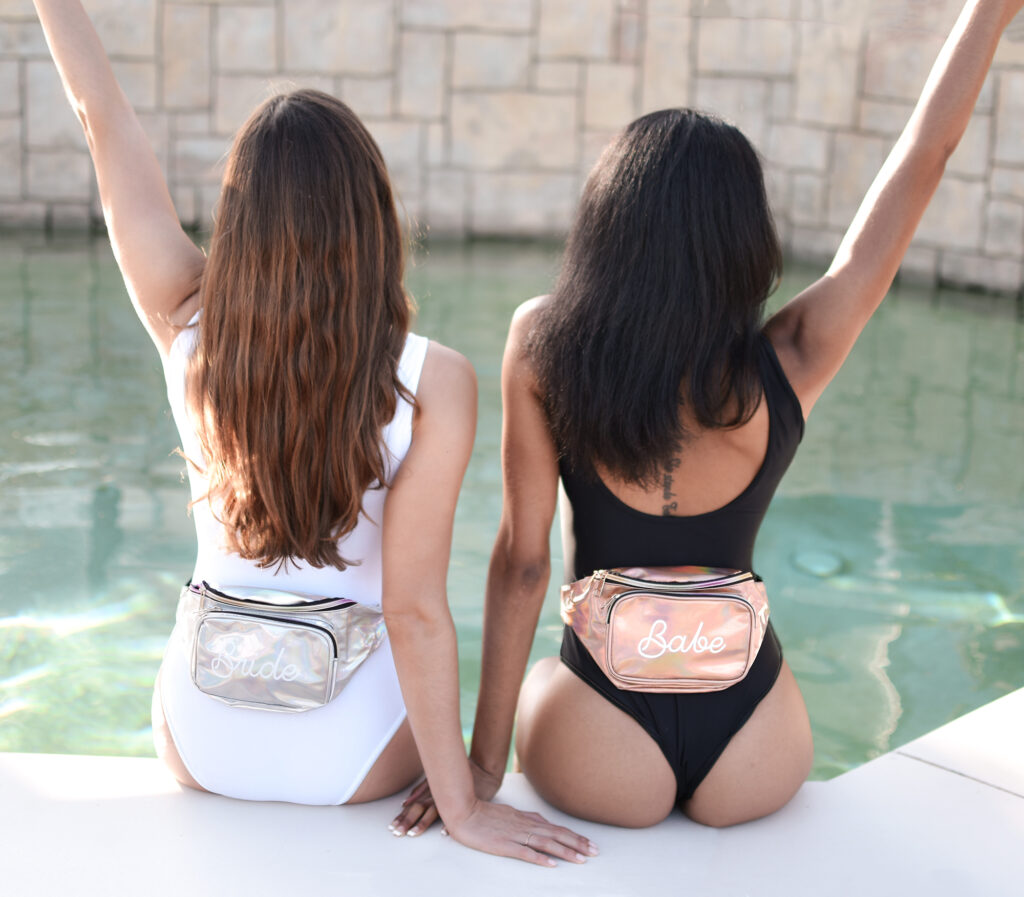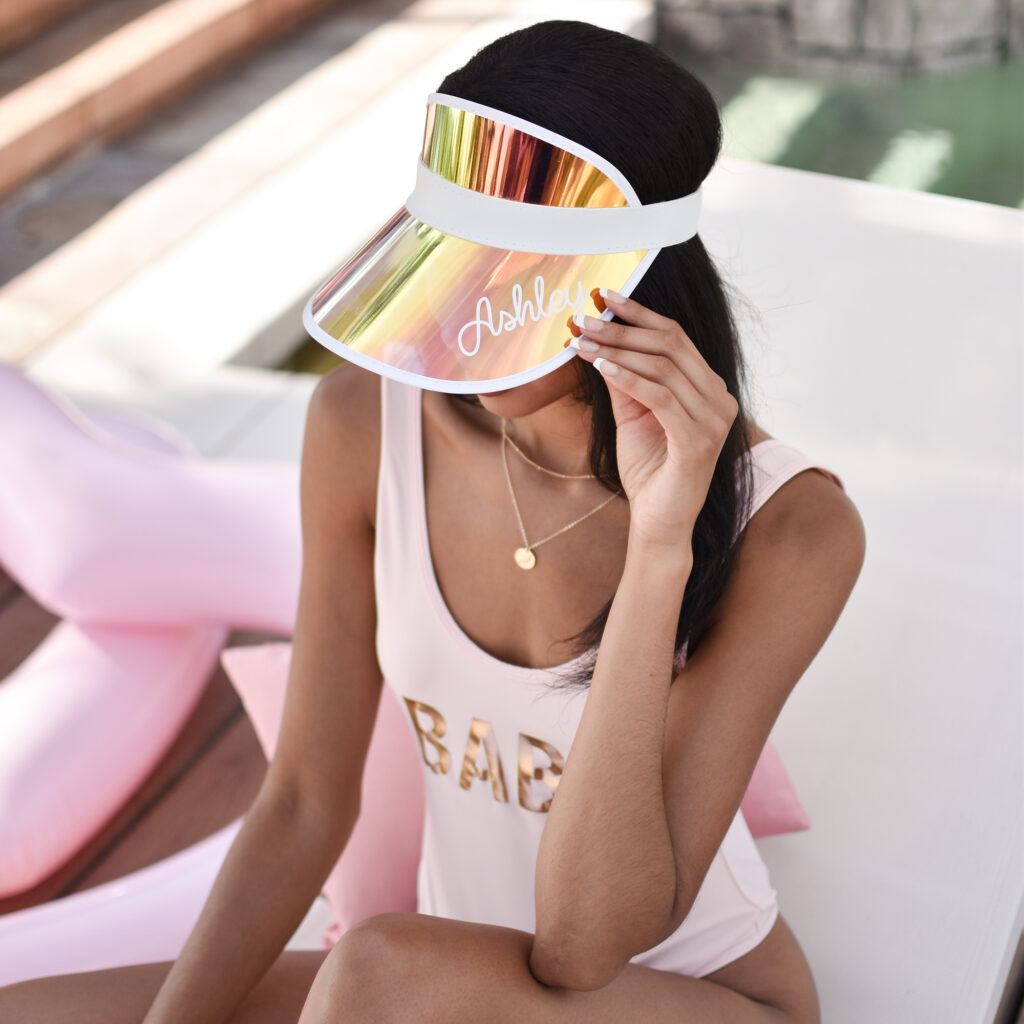 Treat your squad with a variety of bachelorette essentials packed in our
Hologram Makeup Bags! You can fit our Bride Tribe Glasses, Bach Tattoos, Custom Drink Bottles and more.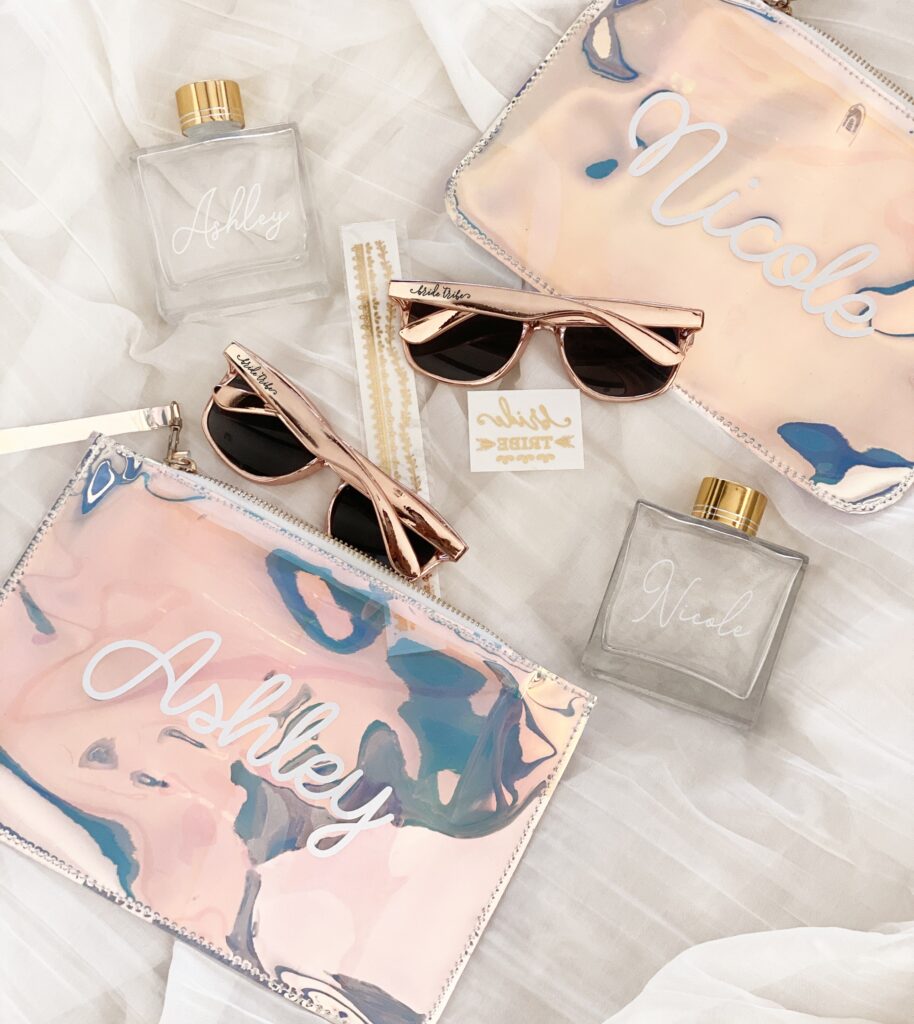 These custom gifts are great for the weekend, and your girls can continue to use them long after the bachelorette party! It just takes a little creativity to make your bachelorette pool party a blast!
Don't Forget About Yourself, Future Mrs!
Now that you've got the details figured out, don't forget to plan out your bridal look before the weekend hits. We've got you with the ultimate poolside look!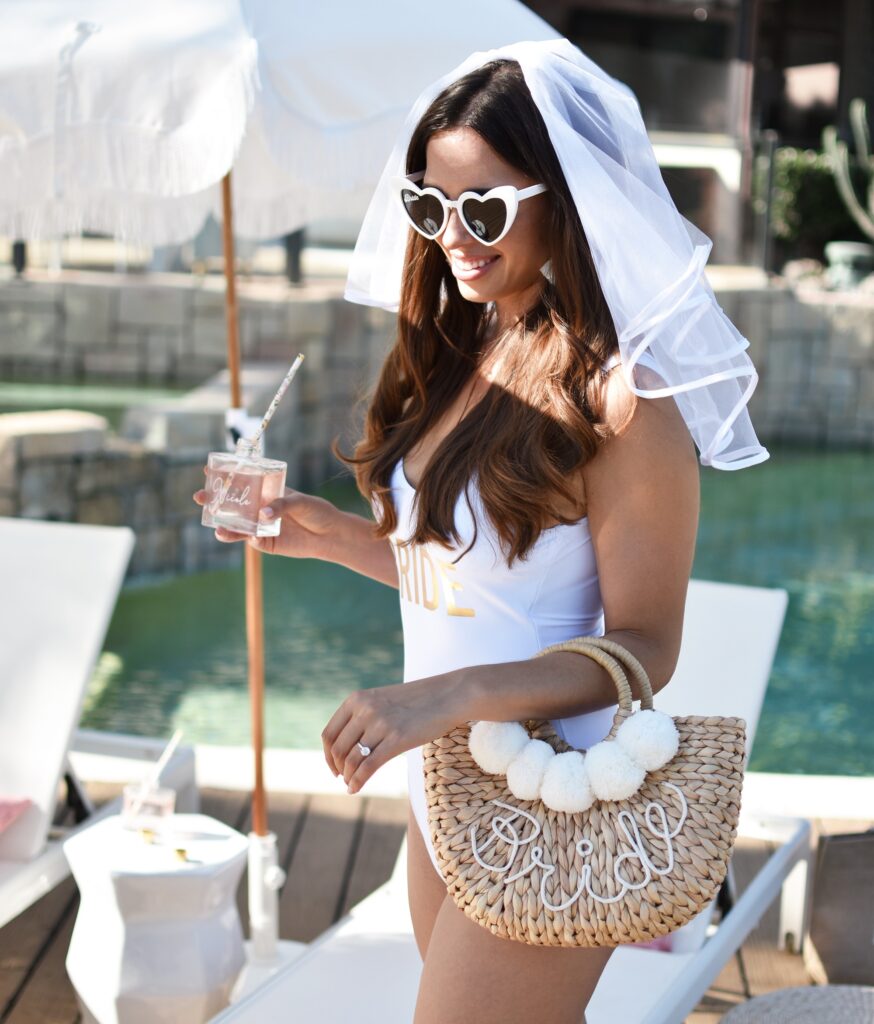 A Straw Purse, Bridal Veil, a pair of adorable Heart Sunglasses, and a Bride Swimsuit of course! This classic look suits all brides, especially our Boho & Beach brides.
Summer Bridal Lookbook
If you need more inspo on stylish bachelorette looks for you & the crew, check out our latest IGTV video! There's something in there for every type of gal!
We also have a surprise for you dedicated babes who made it to the end! For THIS WEEK only, take 15% OFF our NEW Summer Collection using the code BACH2020 (valid through 9/4/2020)!
We hope these ideas & tips help make your bachelorette party a splash. Make sure to tag us @WeddingFavorites + #WedFavLook so we can see your bach bash!