Halloween is right around the corner and sometimes coming up with spooky decorations can be a real terror! We'll take the horror right out of your hands with some of our spooky party favors!
Spooky Halloween Party Kit
Get your party going with one of these Spooky Halloween Decorations Starter Kits. Bright colors and spooky looking designs add that extra touch of fun to all the details you need to create the perfect party. Each Kit includes 6 key components for dressing up a food or dessert table. After that you can build on this kit for a more personalized look by purchasing some of our other Spooky Halloween Party items such as personalized favors and invitations.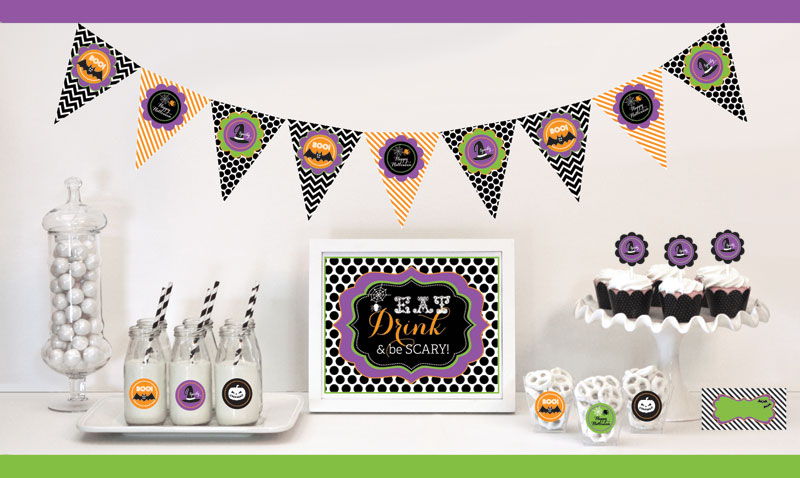 Halloween Candy Wrappers
Put a spooky, personal touch to the candy you hand out this year with our Personalized Halloween Candy Wrappers! Our unique wrapper covers fit most candy bars that are around 1.55 oz so you aren't limited to just one type of candy or chocolate! No tape and no gluing, each glossy white cover is self-closing and can accommodate candy bars that fit in a 2.7″ x 5.8″ space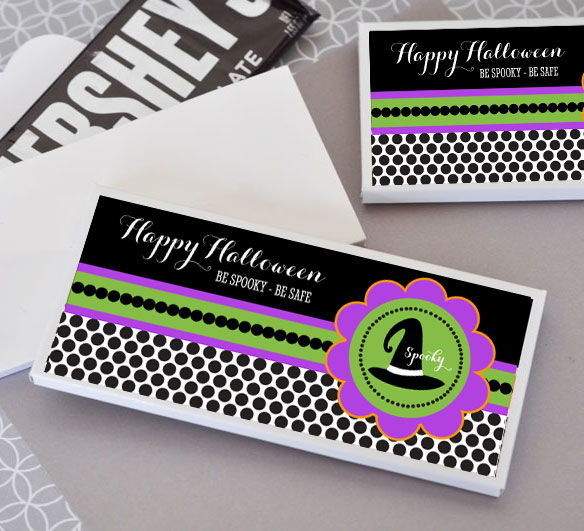 We also have candy wrappers for mini candy bars!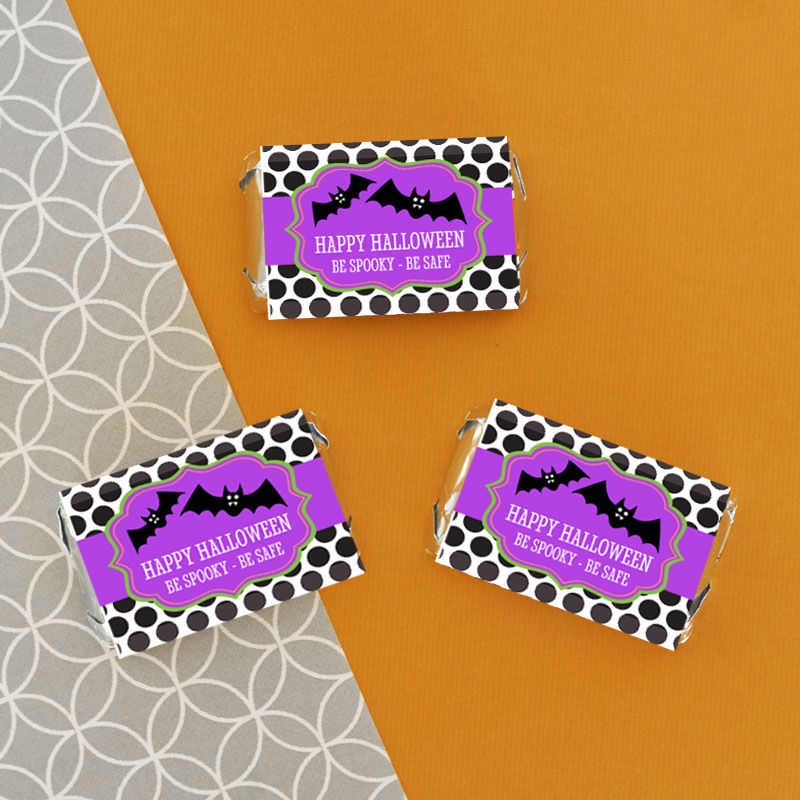 Spooky Halloween Hershey Kisses Trio
Offer some love and "kisses" to your guests with these Personalized Halloween Hershey's® Kisses Labels Trio! Each set contains 108 labels with a TRIO of designs – one pattern, one icon design and one with personalized text. Apply them to the bottom of your favorite kind of Hershey's® Kisses or other candies and display them in a bowl at your special event, or package them together in small bags and present them as favors.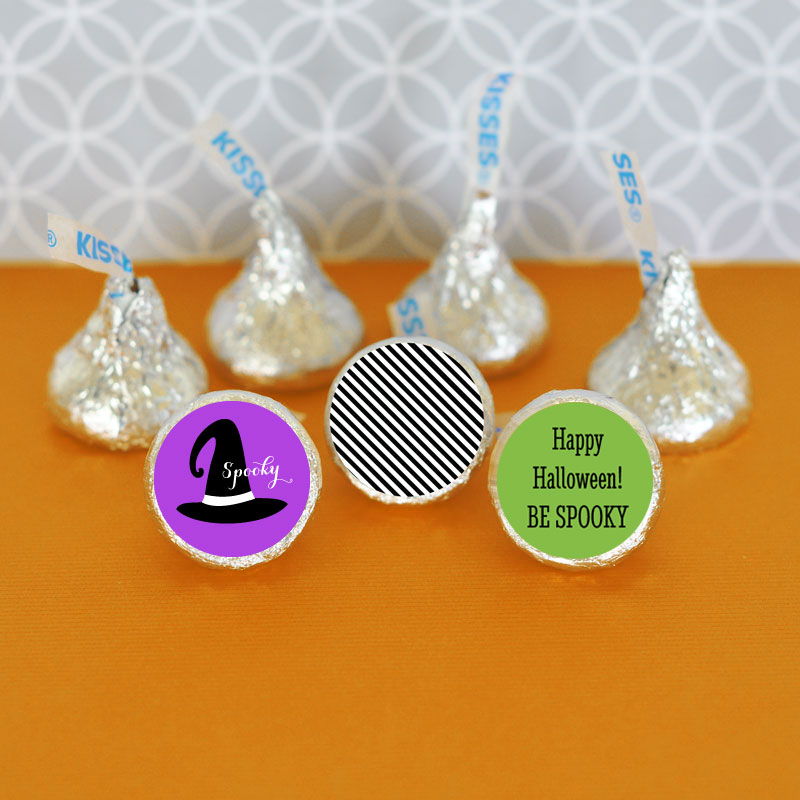 Spooky Halloween Goodie Bags
Impress little trick-o-treaters instead of scaring them away with these eye-catching goodie bags! The only thing better than these goodie bags are the delicious treats that are inside it. Fill it with candy, chocolate, any sweet treat you can think of. Maybe even throw a toy in there or two for a spooktacular surprise! You have the variety of both polka dot and chevron as your prints and the classic Halloween color, acid green!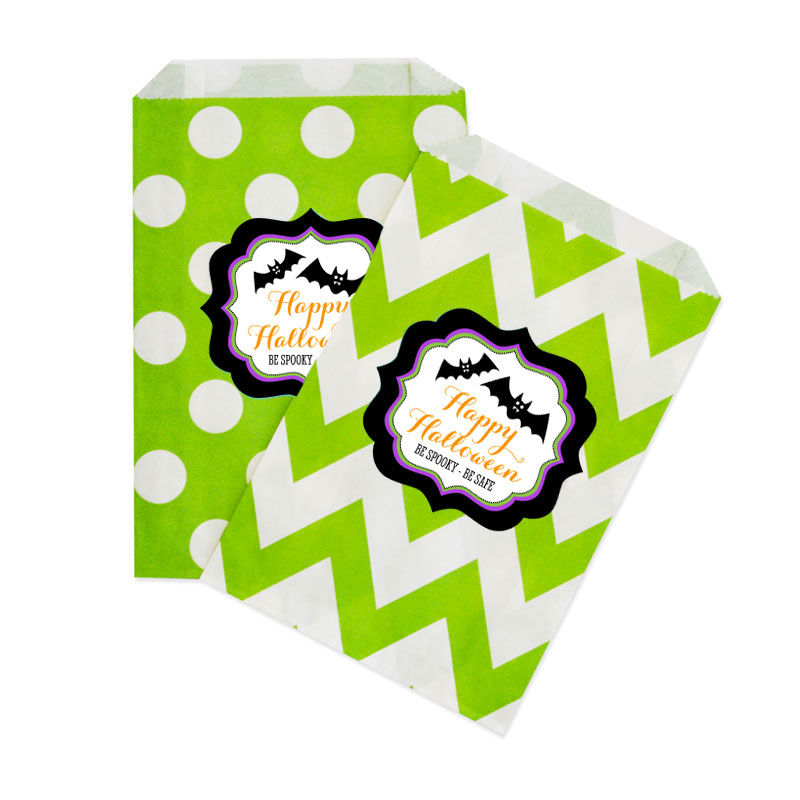 Personalized Spooky Halloween Water Bottle Labels
Make sure your little trick-or-treaters stay hydrated throughout their night of collecting candy and goodies with these Personalized Spooky Halloween Water Bottle Labels. No matter how you "dress up" these water bottle labels, they're a great way to accessorize your Halloween festivities!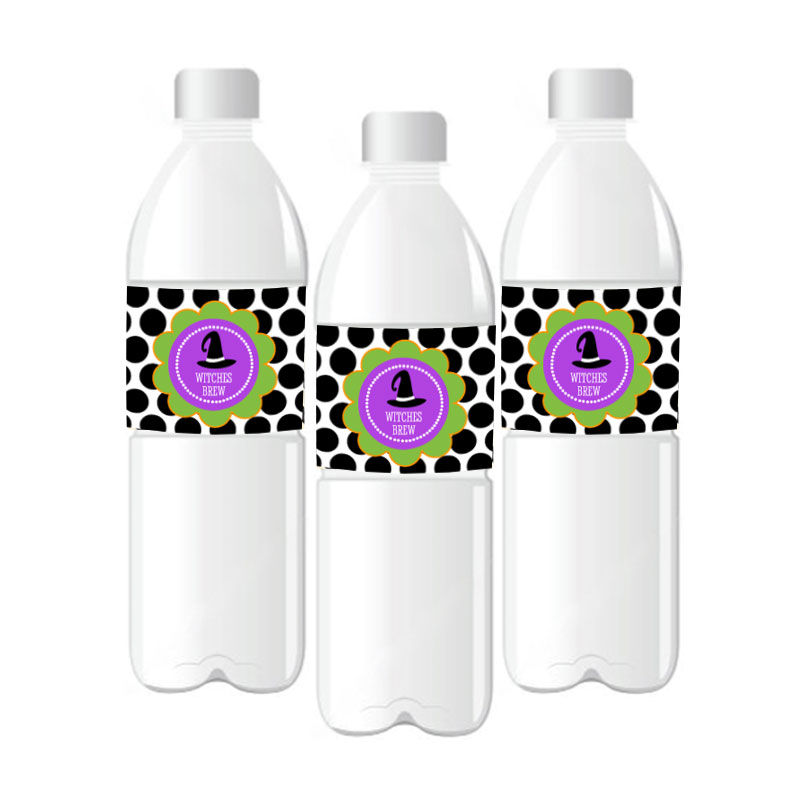 Personalized Spooky Halloween Milk Bottles
Give your trick or treaters a cool and "spooky" drink served in one of these Personalized Spooky Halloween Milk Bottles. For party celebrators with a sweet tooth, you can fill each milk bottle up with your favorite snack or candies that are sure to satisfy. Add matching striped straws to the personalized milk bottles for added flair (sold separately)!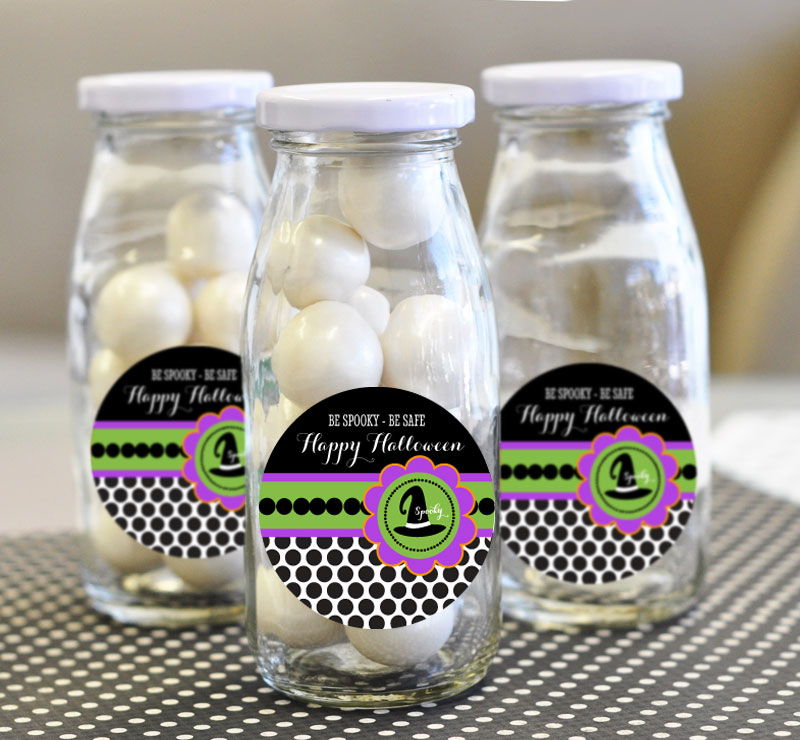 Making Halloween spooky and fun can be a horror story. To make things easier, Wedding Favorites has everything you need to make your party a unique one. Find the latest décor kits, personalized banners, and more.