Picnics are the latest trend for bridal party events and we are HERE FOR IT! We thought a picnic-style welcome lunch would be an adorable way to incorporate this idea for a Bachelorette Party. Here's how we put together this BEAUTIFUL boho picnic setup.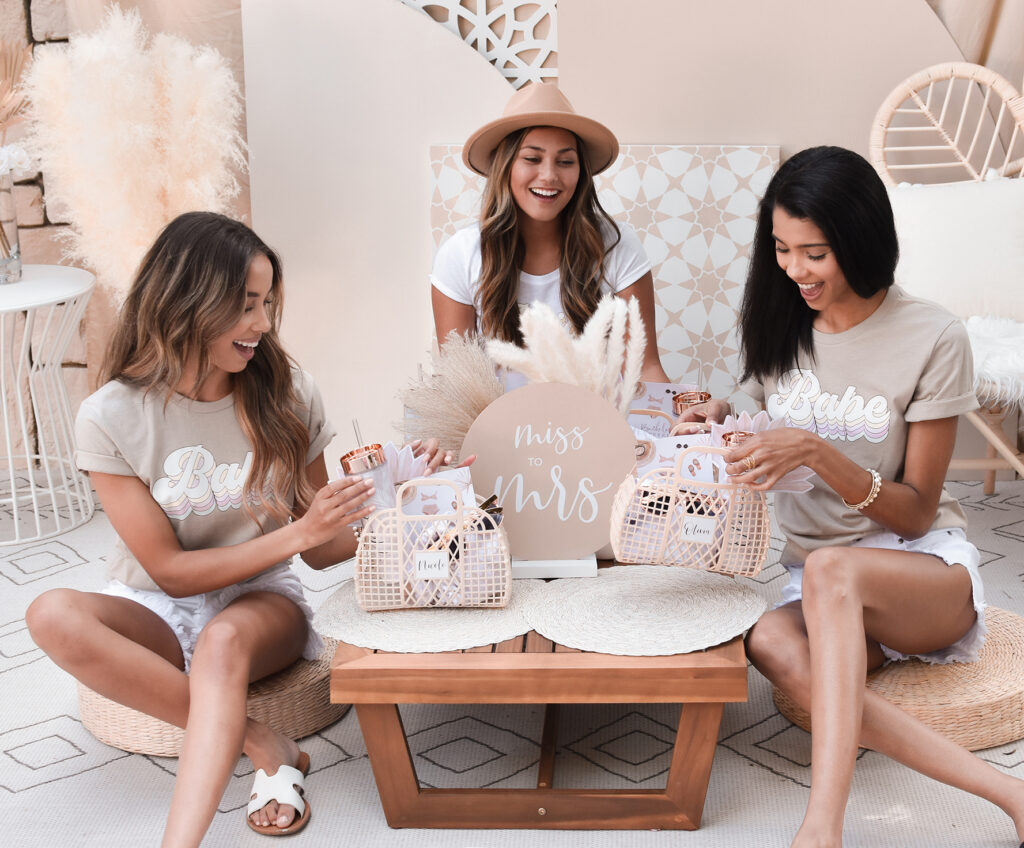 Picnic Location
Enjoy a breath of fresh air by planning your picnic outdoors! We love the aesthetic of a beach picnic but realized it might be harder to execute. The park would've been just as fun, but we opted for an intimate backyard setting. Remember to provide shade if you're setting up in a sunny location.
Picnic Backdrop
The best part about a picnic is the cute photo opportunities! Since we didn't have a beach or park picnic, our setup needed a better background for photos. We started by draping a sheet against the wall to create our canvas and added accent pieces to make the background pop. Then we used a floral partition and transformed extra pieces of plywood to create decorative arches. We even found a cute pattern canvas that tied everything all together. Get resourceful and use what you have!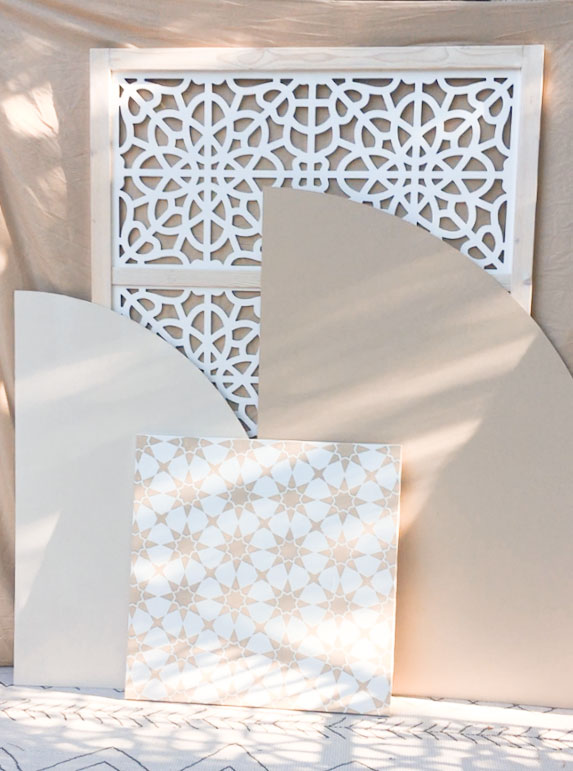 Table Décor
Our favorite part about the picnic was the table! It's what made the entire setup come to life! We found this adorable outdoor coffee table from Houzz and used it as our base. From there we added round placemats and our Miss to Mrs Wood Sign. Our NEW round signs are the perfect centerpiece for a table set up and we even have a personalized version so you can create your own Custom Wood Sign. We even had a special chair just for the bride-to-be. We're obsessed with the Rattan Flower Chair from Picnic Imports. Finish it off with some pampas arrangements for an extra boho-chic look.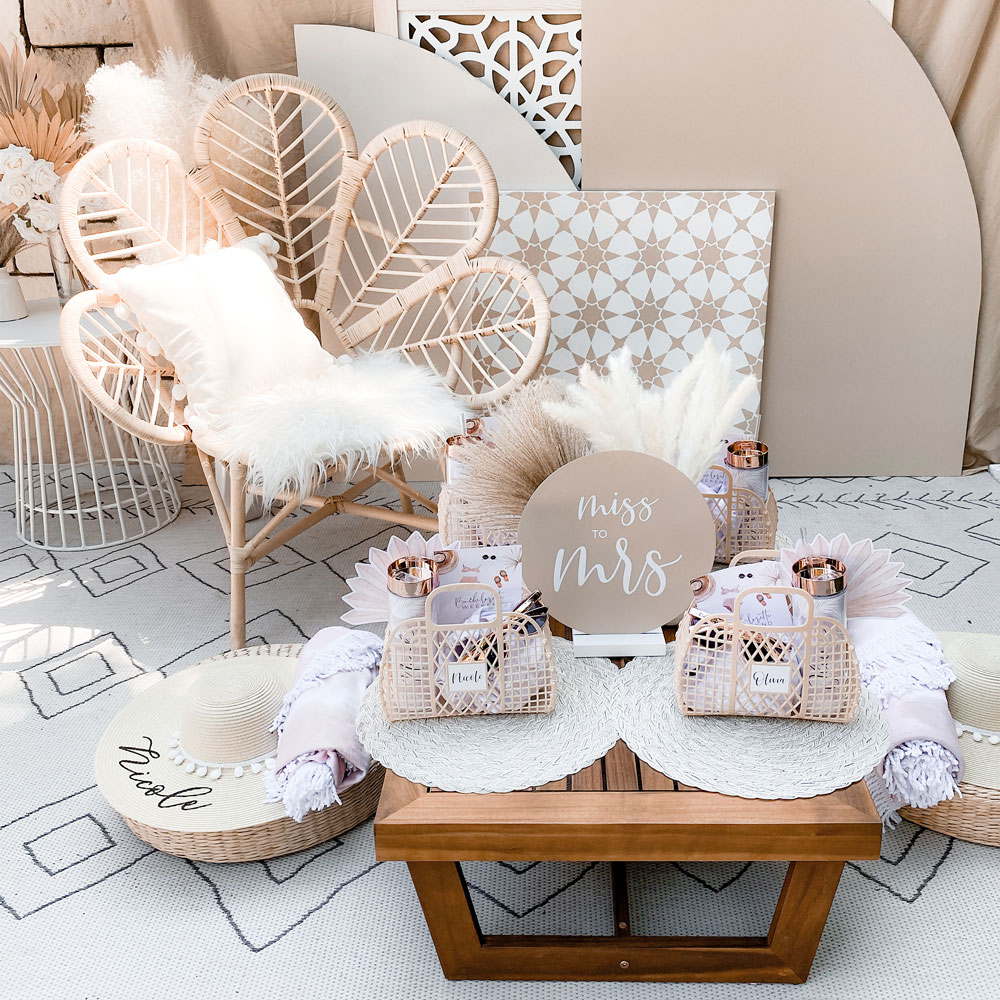 Party Favors, Gifts & Place Cards
It's all about the details when it comes to picnics! We opted to use some personalized gifts that served as party favors for each bridesmaid + a place card to assign seating. On top of the seat cushions, we placed our Personalized Beach Hats and Tie Dye Towels – perfect for the pool/beach. On the table, we used our Personalized Jelly Bags and filled them with Palm Print Tumblers, Dried Palm Fans, Bride Tribe Sunglasses, and Custom Swimsuits. This is also the perfect time to incorporate your bachelorette itinerary. We got ours from A Wild Bloom Printables.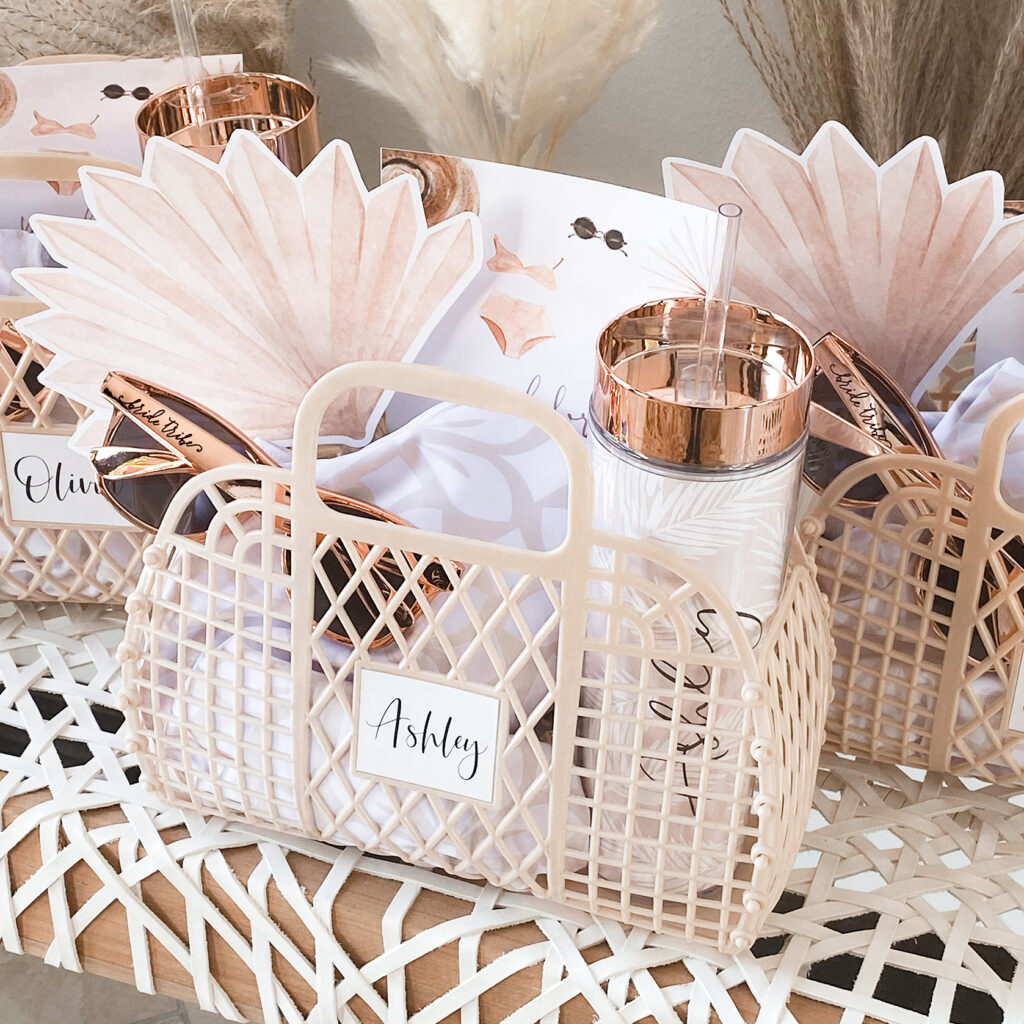 Have Fun!
Once you're done setting up, you're ready to have the best bridal party picnic! We love this picnic setup because you can use it for so many different things. Plan a picnic for your bridal shower or kick off your bachelorette weekend with a brunch! The possibilities are endless, but regardless of the event you choose, this boho picnic setup will be truly memorable!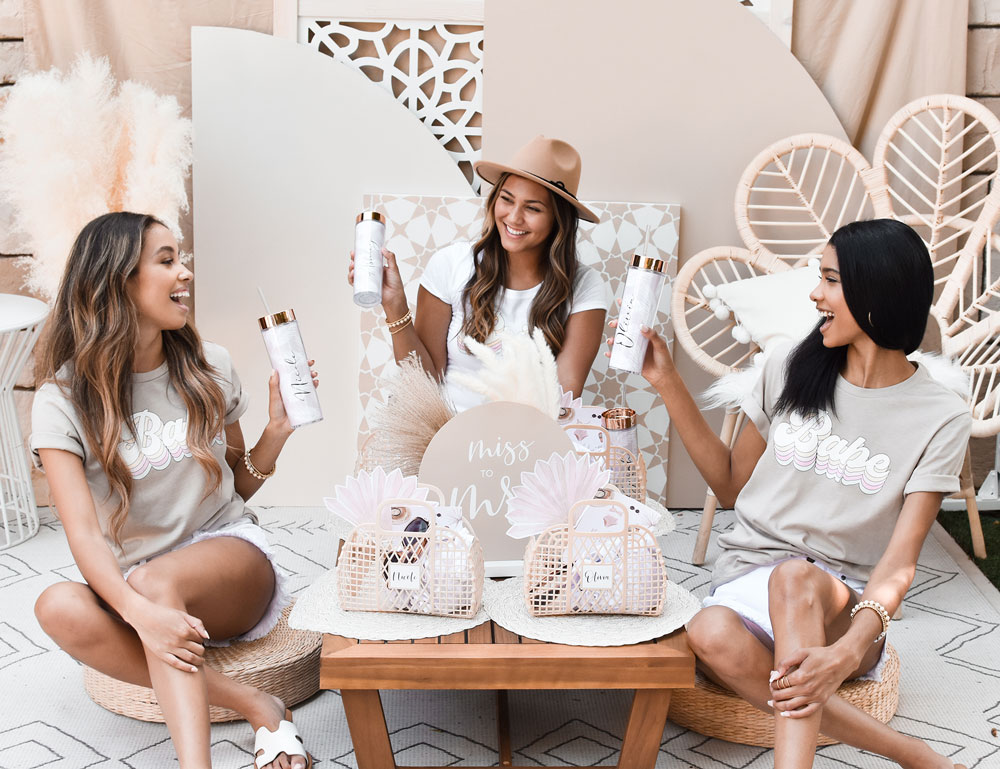 Make sure to tag us on Instagram if you recreate our picnic setup for your bridesmaid proposal, bridal shower, or bachelorette party!