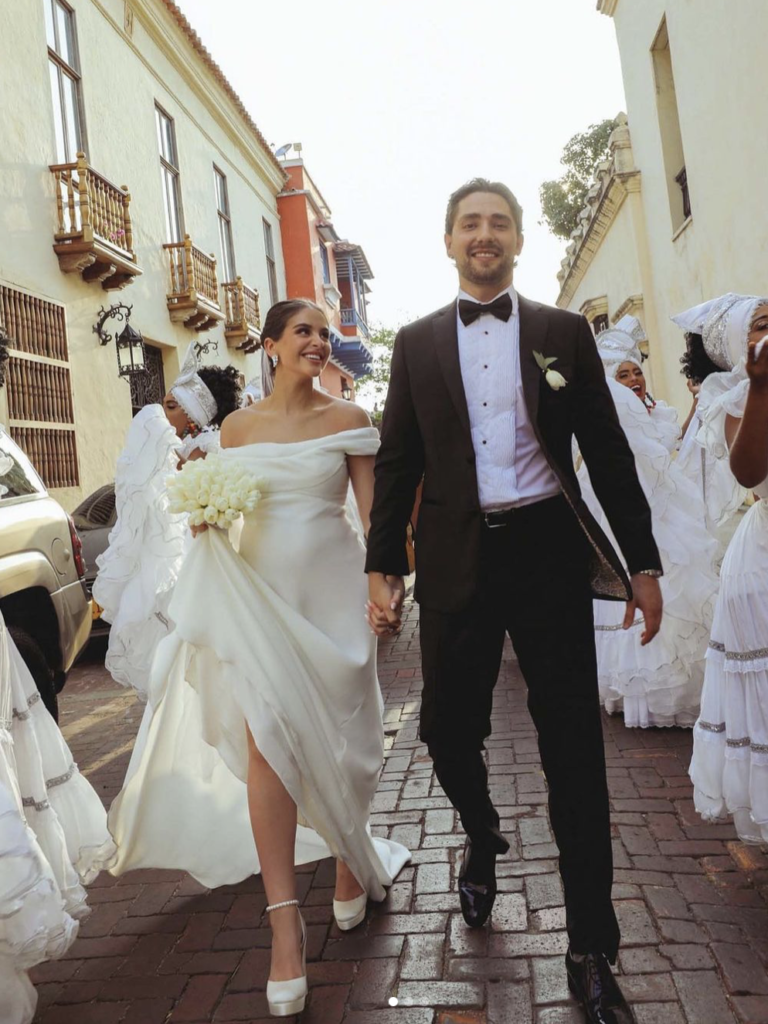 Weddings can be a whirlwind of tasks and responsibilities that are necessary to make the day perfect. When you're busy getting ready to walk down the aisle, it's easy to forget to capture the candid and goofy moments with your loved ones. While professional photographers and videographers ensure magazine-worthy shots, they might miss the real chaos and shenanigans that happen behind the scenes. A fun way to capture those candid moments on your wedding day is to have your bridesmaids do an Instagram Story Takeover!
Recently, we saw Instagram Influencer, @laurengiraldo, completely hand over her Instagram account to one of her besties during her wedding! Throughout the day, her friends uploaded lighthearted pictures and videos. Everyone following Lauren, including family members that couldn't attend, were able to still feel like they were there. Plus, the Instagram story takeover was a unique way to capture the days events that gave the bride and groom a different perspective to remember their big day.
Wedding Day Task: Maid of Media
Ready to make your wedding day unforgettable on Insta?📸 First, pick a friend who is Instagram-savy and appoint them as your Maid of Media. They'll be in charge of capturing behind-the-scenes content of the entire wedding weekend. Creating stories on Instagram is simple, so there are really no instructions needed! Just give them a heads-up if there are certain things that are off-limits and to ask guests for permission before sharing candid snaps. All that's left to do is log them into your Instagram account and let them post away. You'll feel like a real IG Influencer knowing that your special day is virtually being shared to all your loved ones, whether they're there in person or cheering you on from afar!
Take inspiration from @laurengiraldo, who had her best friends handle her Instagram Stories throughout her destination wedding in Columbia. Everyone following Lauren, including loved ones that couldn't attend, watched her getting ready in the bridal suite with her bridesmaids, applying her wedding day accessories, and eventually celebrating her new title as Mrs. Lago. The content was full of smiles, cheering, and joyous tears that, by the end, had everyone reaching for a tissue.
Pro Tips for Instagram Stories:
To help your friends with the Wedding Day Instagram Takeover, we've put together a few social media tips that you can share with your Maid Of Media.
Start the takeover by letting your followers know that you'll be handing over the phone to your Maid of Media for an IG takeover. Show it with a video story for a personal touch!
Use one hashtag that encapsulates the day throughout your stories.
ex: #________isgettingmarried, #mrandmrs________, #________inlove, etc.
Have your bridesmaids film the day before (or days leading up to) the wedding. Capture videos and pictures of everyone arriving and any fun pre-wedding events like the welcome lunch or rehearsal dinner.
Add a countdown button 12hrs before on Instragram stories to notify the audience when the wedding starts!
Instagram lets you save your stories in a special bubble called "Highlights" on your profile. You can save all your wedding day stories there so people can continue to enjoy the content even after the 24-hour stories disappear!
Pass the phone to each bridesmaid and ask which part of the day they are looking forward to the most.
Have the bridal party and guests take a selfie video and leave a surprise message for the bride & groom.
Try utilizing captions, polls, stickers, and gifs, to spice up your stories and engage with your followers.
Let The Instagram Party Begin
There you have it! Planning an Instagram Story Takeover for your wedding is the ultimate recipe for fun and unforgettable memories! Let your bridesmaids work their magic, capturing all the candid craziness and heartwarming moments. Your special day will be an Insta-hit, and your friends and family, near or far, can join in on the special day.
So, go ahead and snap, post, and celebrate like never before. It's time to make your wedding an epic story worth sharing! Make sure to tag @weddingfavorites so we can "be there" with you too.